| | |
| --- | --- |
| | By Request |
---
Cookbook offers recipes and stories
Normally, this space is devoted to recipe requests. This week we deal with a cookbook request -- specifically for the "Tastes and Tales of Moiliili" cookbook first published in 1997.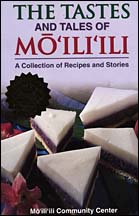 The book is back, after many requests to the Moiliili Community Center from those who wanted more or who never got a copy the first time around. It has a new cover, but the same collection of more than 200 recipes contributed by the Moiliili community.
The "Tales" part of the title refers to contributions from the late storyteller Glen Grant, whose stories about the community appear in and around the recipes. On the page with the German Potato Salad recipe, for example, he notes that the area between Kuni Island Fabrics and Kinko's was once the site of the German Consulate, an area known as "German Town."
The cookbook makes its debut at Saturday's Discover Moiliili festival, 9 a.m. to 2:30 p.m. at Old Stadium Park. It will sell for $12, a discount on the regular $14.95 price. The book is also available at bookstores and at Longs Drug Stores in Moiliili, Kaimuki and Hawaii Kai.
The Japanese influence in this collection is strong, but it's a diverse bunch of recipes, comprising many old local favorites. You'll also find the Waioli Tea Room apple pie and the Willows coconut cream pie.
If you'd like to taste before you invest in the book, Discover Moiliili's Country Store will offer some baked goods and preserves made from recipes in the cookbook.
Elaine Costello of Nuimono Hawaii has prepared this sanbaizuke (pickled turnip) for sale, from the recipe she donated to the cookbook.
Aunty Pat's Sengiri Daikon Sanbaizuke
1 3-ounce package sengiri daikon
1 3-ounce package kiri konbu
» Sauce:
1/2 cup rice vinegar
1 cup sugar
1/2 cup soy sauce
Grated fresh ginger and chili pepper, to taste
Soak daikon and konbu in warm water 1 hour. Rinse, drain and squeeze dry.
Combine sauce ingredients in large bowl. Mix well; add daikon and konbu. Place in jars and cover. Let stand 2 to 3 days in refrigerator before serving.
Nutritional information unavailable.
Send queries along with name and phone number to:
"By Request," Honolulu Star-Bulletin,
500 Ala Moana, No. 7-210, Honolulu 96813.
Or send e-mail to
bshimabukuro@starbulletin.com