Home sales show signs of cooling on Oahu
The number of homes available for purchase jump by 20 percent
The residential real estate market on Oahu showed signs of stabilizing last month as single-family home prices and sales dipped from August and the number of homes for sale rose.
But the market was far from calm. Sales of houses and condominiums continued their brisk pace through September, with prices and sales volume increasing substantially from a year ago. Condo prices hit another record.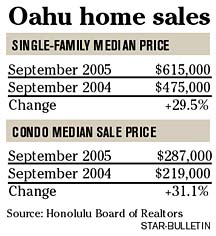 Some 448 single-family homes changed hands last month on Oahu, up 9.3 percent from 410 in September 2004, the Honolulu Board of Realtors said yesterday.
The median price among single-family homes was $615,000 last month, down 1.6 percent from $625,000 in August. However, house prices rose 29.5 percent from the year-earlier $475,000.
The median is the price at which half the homes sold for more and half for less.
While single-family home prices dipped slightly, they still were high enough last month to spur many buyers to purchase condominiums. Some 764 condos sold, a 9 percent increase from a year-earlier 701.
"The condominium market is particularly hot with the September median price setting a new Oahu record at $287,000 and sales speeds continuing at the sub-20 day level for the fifth straight month," said Mary Flood, newly-elected president of the Honolulu Board of Realtors.
The median price for a condo jumped 31.1 percent from September 2004's $219,000. Last month, condo sales agreements were reached after the units spent just 16 days on the market.
Jim Wright, president and chief executive of Century 21 All Islands, said the month-to-month slip in single-family home prices can be explained by a rise in the number of homes available for sale, which ultimately will be healthy for the market.
"As inventory begins to back up it will take some of the heat off rising prices," Wright said. "Sellers will need to compete more to sell their homes."
The number of active listings for single-family homes and condominiums went up in September by about 20 percent, said Harvey Shapiro, research economist at the board of Realtors. There were 1,205 single-family homes and 1,296 condominiums listed last month.
"While we believe that this increase was most likely a seasonal adjustment, this is good news for buyers as there are more choices in the Oahu housing market," Shapiro said.
Although Oahu's residential real estate will remain predominantly a seller's market for quite some time, sellers are not seeing the volume of offers that they have in the past, Wright said.
Wright said prime properties priced at fair market value still will attract multiple offers. However, overpriced properties will not see as much action as they have in the past.
"Properties aren't being snatched up as quickly as before," Wright said.
Total home sales in the year to date have jumped by more than $1 billion to $4.5 billion, an increase of 31.7 percent over the same time last year.