---
[ FAST FACTS HAWAII ]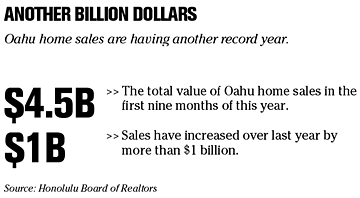 ---
BACK TO TOP


|


HAWAII
Interisland carriers cut selected fares Recent Aloha Airlines advertisements offering free one-way interisland flights during off-peak times of the day were met yesterday with a competing offer by Hawaiian Airlines.
Both carriers are offering deals on their first and last flights of the day. Aloha's offer, for AlohaPass members, requires the purchase of a one-way fare on selected round-trip travel and offers a free return trip, with restrictions and blackout dates.
Hawaiian responded by announcing a $39.50 one-way fare on selected interisland flights, called the "First or Last Flight Special." Return travel can be purchased at the same discounted rate or at any time of day at the regular fare. There are no blackout dates.
Both airlines' special rates are offered for ticket purchases and bookings made online from today through Dec. 31. Rates are higher for travel purchased over the phone. More information can be obtained online at www.alohaairlines.com and www.hawaiianair.com.
Djou proposes hybrid tax holiday
Honolulu City Council member Charles Djou is proposing a one-year tax holiday on sales of new hybrid-energy vehicles to help ease the burden of rising gas price.
Djou said the vehicle tax on a typical 3,000-pound hybrid passenger vehicle will be $90. Last year, hybrid sales made up less than 5 percent of the automobiles sold in Hawaii.
Djou estimated his measure would cost the city less than $250,000.
NATION
Pension changes won't save airlines WASHINGTON » The nation's struggling airlines face at least $10.4 billion in payments for defined benefit pension plans through 2008, significantly more than some are able to afford, a congressional report says.
The Government Accountability Office released the report yesterday as the Senate prepared to take up legislation meant to bring long-term viability to employer-based pension plans. The Senate bill singles out the financially strapped airlines industry in waiving pension-funding requirements.
The GAO, the investigative office of Congress, said easing pension plan obligations would help but would not eliminate the structural cost imbalances the major airlines have with low-cost competitors or guarantee that they can avoid bankruptcy.
Bankruptcy rule waived after storm
The Justice Department yesterday waived a requirement of a new bankruptcy law set to take effect this month to exempt people whose personal finances have been hurt by Hurricane Katrina.
The waiver will allow people in Louisiana and the southern Mississippi to file for bankruptcy without first undergoing mandatory credit counseling.
---
[ HAWAII INC. ]
NEW JOBS
» Hawaii Preparatory Academy has appointed
Bob Bonar
assistant director of development and
Mary-Alice Nogues
alumni affairs director. Bonar will be responsible for overseeing the school's annual fund and assisting in the cultivation of new donors. Nogues succeeds
Julie Mattson
, who retired in June after 21 years at the school.
» Atlas Insurance Agency Inc. has appointed Jason Kott construction services division account executive. He will be responsible for serving the company's construction clients and generating new opportunities for the construction services. He has more than eight years of property and casualty insurance experience.
» Saint Louis School has appointed Darcie Yukimura communications director. She will be responsible for overseeing the school's external marketing campaign, public relations initiatives and promotions for fund-raising events. She previously served as a state Department of Health public information specialist.
» SMG Hawaii has appointed Victoria Jacobson as the Hawaii Convention Center's catering sales manager. She will be responsible for promoting products and services offered by the center's food-and-beverage department to attract Hawaii-based events. She has 25 years of catering experience.
» Johnny Mango Home Textile Collection, a new store at the Gentry Pacific Design Center, has named Brett Sowell fabric guru. He most recently served as a Showplace South Hawaii showroom manager.
PROMOTIONS
»
American Savings Bank
has promoted
Robin Weatherwax
to assistant vice president and branch manager responsible for the Windward City Shopping Center branch. She joined the company in the 1992.
» Sheraton Kauai Resort has appointed Shoji Namatame executive chef. He most recently served as executive chef at the Bora Bora Nui Resort & Spa in Tahiti. He has worked with for Starwood Hotels & Resorts since 1996.
» Next Design LLC, an architectural and interior design firm, has promoted Rey D. Quemado and Michael S. Okimoto to principal, and is reintroducing Marc W. Lizama as principal. Quemado will be responsible for overseeing staffing and operations for many of the firm's residential structure, office building, retail store, office interior and planning studies projects. Okimoto will focus on delivery and operations of single-family and multi-family residential, retail commercial and health-care projects. Lizama previously worked for Wimberly Allison Tong & Goo.