---
[ FAST FACTS HAWAII ]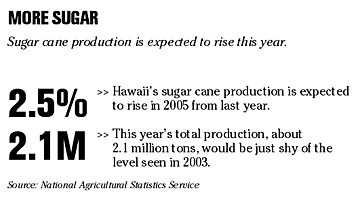 ---
BACK TO TOP


|


Healthy growth in economy expected
Growth in Hawaii's economy has been broad-based and should remain healthy during the next two years, according to a report released yesterday by the University of Hawaii Economic Research Organization.
Statewide, contracting jobs expanded by more than 10 percent in the first two quarters and real construction income growth strengthened to 15.4 percent in the first quarter of 2005.
Based on performance in the first half of the year, construction industry figures this year are expected to be somewhat higher than an earlier UH forecast in March. The state's construction job count will increase by more than 8 percent by year's end and contracting tax receipts will rise 12 percent this year, said university economists Carl Bonham and Byron Gangnes and Bank of Hawaii economist Paul Brewbaker.
However, growth in total contracting receipts is expected to slow toward its cyclical peak in the next several years as expectations of price appreciation decline.
"Having roughly doubled in the past four or five years, high Hawaii home prices are eroding affordability," the economists said in the report.
Rising interest rates and mounting construction costs may make Hawaii real estate less attractive, particularly to offshore investors. Hurricane reconstruction, rising interest rates and high oil prices are also expected to put additional pressure on the construction industry, the economists said.
Acquisition of Mahalo complete
Aloha Petroleum Ltd.
has completed its acquisition of Oahu's Mahalo retail gasoline stations and full ownership of a gasoline import terminal from
Trustreet Properties Inc.
The Federal Trade Commission had sued to block the deal but withdrew its case when Aloha promised to give Mid Pac Petroleum LLC use of the Kalaeloa fuel terminal for 20 years.
Orlando, Fla.-based Trustreet said it sold the gas station operations to Aloha but kept the properties associated with the stations.
ATA reaches deal for repayment
ATA Holdings Corp.
, an airline that has been operating under bankruptcy protection for about a year, reached an agreement to repay creditors using $130 million from investors including
Southwest Airlines Co.
Southwest will receive 27.5 percent of the company's stock once it exits bankruptcy in return for a $30 million investment. Southwest purchased ATA's leases for gates at Chicago's Midway Airport and other rights for $117 million last year. The $30 million investment is part of the $117 million payment.
ATA, based in Indianapolis, will continue flying to Hawaii from western cities and providing charter service to the U.S. military. Roughly two-thirds of the airline's creditors must vote in favor of the plan before it can be considered by the court. By filing the plan today, ATA is in position to end the bankruptcy case late this year or early next year.