Jaywalking alarms parents
Many students ignore new traffic lights near schools in Kapolei
Kapolei residents are happy that after five years the state finally put up traffic lights to protect students.
But now there is a new problem. Some students are ignoring the lights and jaywalking at two crossings to Kapolei High and Middle schools because of the wait to cross busy Kapolei Parkway.
"This is just maddening," said Terry Bunkley, facilitator of the Parent Community Network Center at Kapolei Middle School. "They don't even hurry. They're not even crossing in the crosswalk."
Four sets of traffic lights installed near Kapolei Elementary, Middle and High schools became operational two weeks ago.
In August 2002 the Housing and Community Development Corporation of Hawaii approved the $1.5 million project to install stoplights near the schools. The approval came several months after a 14-year-old girl was seriously injured when she was struck by a construction truck fronting Kapolei High. The development agency owns and maintains the traffic lights and roadways that will eventually be turned over to the city, according to spokesman Derick Dahilig.
Since the lights were turned on, school officials have received many phone calls about students jaywalking, Bunkley said. Many are worried for their safety, especially with large construction trucks traveling on Kapolei Parkway on a daily basis.
The problem prompted Bunkley to help create a three-minute DVD to educate students about pedestrian safety. A police officer in the video talks to kids and informs them that they can be issued a $70 fine for jaywalking.
The DVD was shown to middle school students, and copies were distributed to officials at Kapolei Elementary and Kapolei High.
Already, police have been regularly patrolling the six-lane Kapolei Parkway to look out for speeding motorists, Bunkley said. "It's a 25-mph zone. I rarely see anyone going 25 miles," she added.
Capt. Mitchell Kiyuna of the Kapolei Police Station said beat officers will regularly make checks near the schools, and citations will be issued, if necessary, to students jaywalking.
"It's not going to change overnight," Kiyuna said. "Habits are hard to break."
Principal Al Nagasako of Kapolei High School said he was elated that the traffic lights recently installed near the front of the campus were finally up and running.
"I'm happy now, but it should not have taken five years," said Nagasako, who constantly urged city and state officials to install traffic lights since the school opened in 2000.
"Nothing should take that long, especially when kids' safety is at stake," he said.
Lolita Takeda, president of the Parent Teacher Student Association at Kapolei High School, was instrumental in pushing for the installation of the traffic lights.
"It's really a big relief for me," Takeda said.
"Now I have to concentrate on educating the parents to educate their children to take safety steps. ... Now the responsibility is of the pedestrians," she said.
On a recent day after school, Kapolei High senior Lianne Hamamoto waited for the walking-man symbol to appear on the pedestrian light. "It's a lot better. It's a lot safer," said Hamamoto, who walks to school every day.
As she waited, groups of students passed her and walked across Kapolei Parkway on the crosswalk while the no-walk signal was still on. "People still cross without waiting for the lights," Hamamoto said.
At Kapolei Elementary some parents said they were glad that the traffic lights at both intersections of Kamaaha Loop were installed for pedestrians and drivers alike.
"It's really good. It was dangerous," said Kapolei resident Dot Simon as she waited to pick up her 6-year-old daughter, Kamalei.
Crossing guards were retained near Kapolei Elementary to reinforce pedestrian safety for children.
When the light turned red for traffic, crossing guard Laverne Magallanes walked to the middle of the crosswalk on Kamaaha Avenue and Kamaaha Loop. Holding a red stop sign, she guided pedestrians safely across the four-lane street. "I like it now," said Magallanes, noting how cars would not stop prior to the installation of the lights.
Twice in the past year, Magallanes said she was almost struck by vehicles traveling along Kamaaha Avenue. "Too many kids were almost getting banged," she said.
---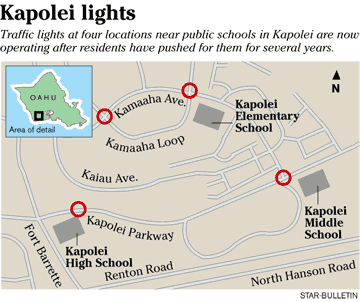 ---