---
[ FAST FACTS HAWAII ]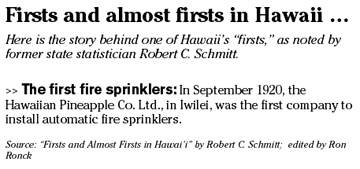 ---
BACK TO TOP


|


NATION
Baby boomers want to work past age 65
Americans have hewed closely to 65 as a retirement age for decades, partly a function of health considerations and a desire to enjoy the "golden years" with minimal fealty to the rat race.
That's about to change, experts say.
Those numerous baby boomers in the work force are a different breed, and need to be handled differently as 65 creeps up, according to J. Howard & Associates, a Boston-based consulting group on diversity and human resource development.
They're not looking to retire, and may not want to relinquish their relatively sizable salaries, gained through their seniority, said Gerry Lupacchino, vice president of Novations/J. Howard.
"Unlike preceding generations, employees now in their 50s won't go quietly and employers are going to run into big problems if they don't wake up to the impending confrontation," he said.
"Unless accommodations are made, corporate America is headed into a time of unprecedented age-related complaints and lawsuits."
Bosses more receptive to bad news
Do your supervisors have a tendency to blame the bearer of bad news?
Some employees still might think so and are reluctant to pass along bad news to the boss, but the trend is changing, according to a survey of worker opinions on the matter from 1991 through this year.
From 1991 to 1995, only half the work force at 68 polled companies felt that management encouraged the reporting of bad news to superiors, according to the research by Sirota Consulting LLC, based in Purchase, N.Y.
That rose to 60 percent in the queries compiled from 1996 through 2000, and to 65 percent from 2001 through the middle of 2005.
Some firms selecting lead directors
You've heard of the regulations, lawsuits, prison terms and massive accounting and legal bills the scandals of corporate America spawned. Add another development to the list: the appointment of lead directors on company boards.
Forty of the 100 largest companies listed on the New York Stock Exchange and 26 of the top 100 on the Nasdaq now have a lead director, a board member who assumes some of the functions of the board's chairman, according to Frederic W. Cook & Co., a compensation consulting company.
Among them: Microsoft Corp., Citigroup Inc., Chiron Corp. and Applied Materials Inc.
"The birth of the lead director trend is in response to increasing shareholder demand for truly independent boards to ensure that shareholder interests, not management self-interests, are first and foremost in corporate governance," said Beverly Aisenbrey, a managing director at Frederic W. Cook.
Serving on a committee is also becoming more lucrative for more board members, who get $7,000 to $10,000 in additional fees for their work on committees, according to the survey.