Well-suited
The new owners of Well Bento carry on its healthy takeout menu
There's a sense of newfound love coming out of Well Bento these days.
The Well Bento
Address: 2570 S. Beretania St., second floor

Hours: 10:30 a.m. to 9 p.m. daily

Call: 941-5261
The popular gourmet organic takeout business went dark for a couple of weeks in August after its former owner, Harris Brazina, had to leave for the mainland for family reasons. Its core of loyal customers raised a hue and cry. Would anyone pick up the gauntlet and continue to serve the food that customers from all over the island had come to love?
Enter Todd Brown and Kristine Wilcox.
Brown, a chef-manager originally from St. Petersburg, Fla., has two decades of kitchen experience, the last eight years in Hawaii. The Michigan-born Wilcox, raised vegetarian, is a certified nutrition therapist. She's also a student of the Indian holistic system of Ayurveda, which aims to create a healthy balance between food and lifestyle.
And apparently a soul mate connection was behind their decision to take over Well Bento.
"Me and Todd have known each other for only (about 10) weeks now," Wilcox said. "When we first met, we just had a connection ... a 'pure feeling' moment. Ten days after we met, we walked into the Well Bento, and Harris gave us this opportunity to buy the place from him. So I gave up my practice, Todd gave up his job in Waikiki, and a week after that, we got engaged. We plan to get married on Nov. 11."
WELL Bento has made its reputation as a "macrobiotic fusion" eatery. Since, as Brown said, "everything sells," the core of the menu -- and the philosophy -- has been kept intact, with Brown introducing daily specials of his own, such as his millet croquettes.
Three standard vegetarian plates are offered. The Zen macrobiotic plate contains boiled root vegetables -- kabocha, broccoli, cabbage, carrots, onions and daikon -- plus the day's beans and hijiki, a variety of seaweed. The tempeh scaloppini has slices of the starchy fermented soybean product sautéed with mushrooms in a white wine and lemon sauce. And there's a choice of tofu, seitan (a meat substitute made of wheat) or tempeh grilled with either homemade Cajun seasonings, a maple barbecue sauce or a Cajun tamari teriyaki sauce.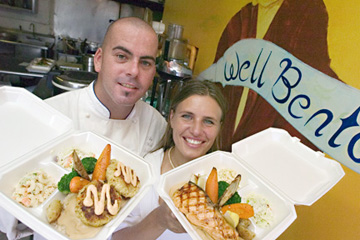 For those who want to eat healthy but haven't committed to a strictly vegetarian diet, "transitional entrees" are also popular choices. Grilled chicken plates with the aforementioned choices of sauces and seasonings are on the menu, along with grilled salmon lightly seasoned with olive oil and tamari sauce. Those still seduced by the taste of meat can choose USDA choice flank steak grilled and seasoned to preference, or a half-pound hamburger steak grilled with a special blend of seasonings.
Well Bento promises to use high-quality ingredients free of chemicals, additives, preservatives and refined sugars, and organic products whenever possible. All plates are served with macaroni salad, coleslaw and tahini sauce over Lundberg brown rice.
"Harris is grateful that we've kept the place open," said Wilcox, and the couple stays in constant contact with the former owner.
The small walk-up just Ewa of the busy University-King-Beretania intersection also has a new coat of earth-tone paints courtesy of Wilcox, complete with a rendering of a benevolent and watchful Buddha.
"We've been open about a month, and we're still assessing the rhythm and flow of the place," Brown said. (Things must be going well -- they're now open every day until 9 p.m.)
Wilcox dares to dream that, one day, Well Bento will have multiple locations. "This could be a great segue to expand. Nothing against them, but places like L&L, Burger King and McDonald's all serve prefabricated food, and no one else is doing what the Well Bento does, cooking to-go meals from scratch. It's all about caring for people's bodies, not just filling the gut."
Brown carried over the cooking staff originally assembled by Brazina and is "pleased with so much of the community support we've gotten from all walks of life," he said. "It's such an outpouring of appreciation."
Since he's started to cook there, Brown has grown very conscious of what he eats. Meals of things like daikon, kabocha, pumpkin and brown rice have lowered his blood pressure.
"Todd and I just have this rhythm together, and we share a love for food," Wilcox said. "There were never any questions or doubts about doing this. It's a very special love story, a dream come true. We just met and positive things have happened."