---
[ FAST FACTS HAWAII ]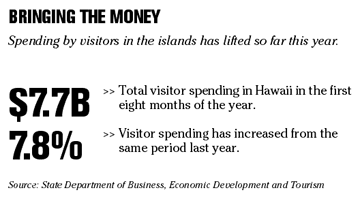 ---
BACK TO TOP


|


HAWAII
Bankoh acts to halt more trading abuses
Bank of Hawaii Corp.
, notified that it faces possible punitive action by the Securities and Exchange Commission, said it has made several changes to detect and prevent mutual fund trading abuses after a former employee engaged in market timing in 2002 and 2003.
The bank disclosed yesterday it has received a "Wells notice," with similar notices going to its Asset Management Group, three current executives and one former executive. "Wells notices" indicate the SEC plans to take civil action. The recipients will have a chance to respond to the staff of the SEC before any formal recommendation is made to the full commission.
The notices stem from an investigation into alleged excessive and late market trades at Pacific Capital Funds, a mutual fund managed by the bank's Asset Management Group. The company said the allegations concern trades made by an unnamed former employee, who was later fired. The employee may have increased the value of his retirement account by about $110,000 with the improper trades.
"This is not anticipated to have an adverse affect on the bank, our customers or the funds," Bankoh spokesman Stafford Kiguchi said.
Lanai to get 48 affordable rentals
Castle & Cooke Resorts
is building 48 affordable rental apartments on Lanai that are being partly financed by $7.3 million in federal and state low-income housing tax credits.
The project, to be called The Courts, will be for earning 60 percent or below of Maui County's median income. The company broke ground yesterday on the development, which is targeted to be completed in November 2007.
Lanai is mostly owned by Los Angeles investor David Murdock, owner and president of Castle & Cooke Resorts. The Courts LLC is a partnership between the nonprofit Pacific Housing Assistance Corp. and Castle & Cooke Resorts.
Company wins innovation award
Honolulu-based
Cellular Bioengineering Inc.
has been selected as one of this year's top 100 innovations by R&D Magazine for making computer chips that may one day communicate with biological nerve cells.
The neural matrix chip allows nerve cells to reproduce and grow in a specific pattern, such as a computer chip's circuit board, a first step toward creating combined biological and electronic chips. The chip has been under development by the company and the Lawrence Berkeley National Laboratory in California.
Tiki sells service to PDC Systems
Tiki Technologies Corp
., a spinoff of local Internet provider
LavaNet Inc.
, said it has sold its anti-spam, anti-computer virus service called Scora to Honolulu computer network consulting firm
PDC Systems
for an undisclosed sum.
PDC Systems has been the largest reseller of Scora for the past year and a half. The buyer said the deal moves the company closer to being a one-stop technology shop for customers.
NATION
Court blocks O'Hare expansion
CHICAGO » A $15 billion expansion of O'Hare Airport designed to ease some of the nation's worst flight delays was halted by an appeals court yesterday just hours after it received the go-ahead from the Federal Aviation Administration.
The city was expecting final approval and started to break ground on the airport's first runway since 1971. But the U.S. Court of Appeals in Washington granted a stay of the project while it considers an emergency request filed by opponents, who argued it should be stopped because it would desecrate a cemetery with 1,300 tombs dating back to the 1800s.