| | |
| --- | --- |
| | Da Kine |
---
Crib Notes | Johnny Mango fabric showroom opens
With a name like Johnny Mango, it's got to be a fun time when the textile showroom celebrates its grand opening Thursday, Friday and Saturday with lunch, refreshments and a presentation of its fall fabric lines.
The first 25 people who reserve a space to the Johnny Mango Home Textile Collection opening each day will receive a complimentary lunch by Matters of Taste from 11 a.m. to 2 p.m. Thursday and Friday, and 11 a.m. to 1:30 Saturday. Visitors to the shop can enjoy refreshments beyond that lunch hour all three afternoons.
The showroom of upholstery, drapery and outdoor fabrics caters to both retail and the interior design trade, with special accommodations to the trade.
Proprietor Brett Sowell, a 15-year Hawaii resident and former manager of Showplace South Hawaii, chose the name for its island flavor. "I wanted something that sounded local ... plus I love mangoes."
His forecast for fall: "Major blue/brown combinations and you'll see a continuance of the citrus tones, bright oranges and greens."
See for yourself at the Gentry Pacific Design Center on 560 N. Nimitz Highway, Suite 118. Call 536-2300.
---
On the House | 2005 Parade of Homes begins tomorrow
The annual BIA- Hawaii 2005 Parade of Homes event kicks off from 10 a.m. to 5 p.m. tomorrow and Sunday, showcasing the latest in technology that goes into building a home, sweet home.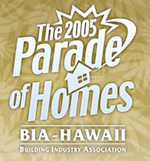 "Get House Smart" is the theme for this year's show, which continues 10 a.m. to 5 p.m. Oct. 8 and 9.
Look in this week's Midweek for an official guidebook.
Highlights include a development at Ocean Pointe in Ewa Beach, in the Single Family Division IV. The home is a "poster child" for energy efficiency in Hawaii with features that reduce electricity costs and enhance noise reduction (minimum noise going in from outside, and out from inside).
Winners will be announced at the BIA-Hawaii Parade of Homes awards banquet at the Ko Olina Resorts this evening. Look for a list of winners next Friday.
Home & Garden | Isle home in solar tour
A house on the North Shore made the cut for Hawaii and joins 43 other states on the 10th annual American Solar Energy Society National Solar Homes Tour.
Open house is from 8 a.m. to 7 p.m. tomorrow at 59-381 Ke Nui Road in Haleiwa. The home is one of more than 3,000 solar-powered and energy-efficient structures across the United States participating in the tour.
"The house is easy to find," said coordinator Meleana Judd. "Just look for the green house with solar panels on the roof!"
Visitors will see how they can save money and the environment by using solar energy.
Afterward, they are invited to stay for a swim and take in the North Shore Farmer's Market.
Call 638-7938 or visit www.nationalsolartour.org or www.solarsupply.com.
Home & Garden | Wreathmaking class
It's never to early to think about the holidays as the Friends of Honolulu Botanical Gardens presents a wreathmaking class at Ho'omaluhia from 9:30 a.m. to 3 p.m. Oct. 8.
Instructors Marie McDonald and Roen McDonald Hufford will teach hands-on basic techniques complete with finishing touches.
Participants will take home two complete wreaths: fresh greens and dry materials.
Cost is $125 and includes lunch and all wreath-making supplies.
Space is limited to 24 people. Advance registration is required. Send your check to Friends of Honolulu Botanical Gardens, 180 N. Vineyard Blvd., Honolulu 96817.
Call 537-1708.