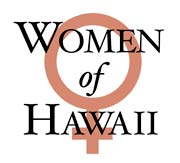 Challenges. Changes. Courage.

Day 8: Wahine Rule
---
---
Hawaiian women
chart their own
path to power
With a red hibiscus in her long dark hair, Lilikala Kame'eleihiwa grabbed the microphone before a legion of red-shirted protesters resting on the grass. They were tired after a long political march that passed through the heart of Waikiki during a recent warm afternoon.
[an error occurred while processing this directive]
In an instant, Kame'eleihiwa had hundreds standing on their feet.
In a booming voice, she asked the crowd: "Do we want our land?"
"YES!" yelled the crowd.
"Do we want our justice?"
"YES!" roared the crowd.
"Then we will have to fight for it," she told them.
When the 52-year-old Kame'eleihiwa is not pumping crowds, she's easy to find at the Center for Hawaiian Studies at the University of Hawaii at Manoa, where she's a professor.
But there's something else that's striking about her. She is one of several high-profile women who stand out among the leaders in today's native Hawaiian sovereignty movement.
While native Hawaiian women suffer some of the worst health and poverty conditions in the state, there are strong women leaders -- some with law degrees or advanced degrees in Hawaiian studies -- who have escaped these conditions. And many of them have turned their attention to their own communities, with several seeking to improve the lives of their people with self-determination and a new nation.
"How can you be a wimp if you have goddesses like Pele or Haumea, the goddess of politics, childbirth and war?" said Kame'eleihiwa.
"In Hawaiian culture it is normal for women to run things," said Kame'eleihiwa, whose outspoken style has won her strong admirers and critics.
She asked: "Why is it that men in the West feel the need to oppress all women? What is the matter with Western culture?"
Kame'eleihiwa, a Kamehameha School graduate, said that before the 1893 overthrow, members of her family served as lawyers, but they openly opposed the Republic and were economically marginalized afterward. She was one of the first in her immediate family to get a high school education.
DURING THE PROTEST and march through Waikiki, Kame'eleihiwa was one of several women who spoke to thousands of supporters. Many wore red shirts emblazoned with the words "Ku I Ka Pono" ("Justice for Hawaiians") to protest attacks on their rights, lands and entitlements.
The march that September day was largely organized by fellow Hawaiian rights activist Vicky Holt Takamine and the organization she helped found in 1997: 'Ilio'ulaokalani Coalition. The environmental watchdog group was formed to lobby the Legislature over many issues, including native gathering rights.
Recently, the group has evolved into the organizing force behind many rallies and marches for a range of native Hawaiian issues.
For example, when a march was called this summer after a federal appeals court struck down the "Hawaiians-only" admissions policy of Kamehameha Schools, Takamine and her coalition joined with the school and alumni to organize marches in Honolulu and San Francisco.
"I think you see more women in the movement because women are more tied to the cultural practices of the native Hawaiian community than the men are," said Takamine, a kumu hula and the founder of Aloha Aina (love the land), a native Hawaiian political party.
"Native Hawaiian men are competing in a Western world, so you see them in politics in the Democratic Party or the Republican Party," she said. "But women are tied to the cultural practices, to the natural resources. They see the struggle to take away our land and our rights and see the cultural genocide."
Takamine and Kame'eleihiwa each said that part of the reason women lead goes back to ancient Hawaiian religious practices, in which every male god had an equally important and powerful female counterpart to create balance.
They noted that Christianity has no strong or equal female leaders. Hawaiian scholars have also written about how the Christian missionaries diluted many of the stories of strong Hawaiian goddesses and female leaders.
And just as there was equal representation among the gods in Hawaiian religion, by extension, there was equal sharing of political power in a society that granted authority and privilege based on class, genealogy and ali'i (royal or aristocratic) status rather than on gender.
Women served as high chiefesses, or counsel to male chiefs and they fought as warriors based on their genealogy.
In her 1999 essay "Na Wahine Kapu" (Divine Hawaiian Women), Kame'eleihiwa notes there were women chiefesses as far back as 1375. Explaining the factors that a leader weighed in choosing a successor, she wrote: "High lineage and genealogical rank were thought to bestow the most mana (spiritual power)."
Kame'eleihiwa wrote that in 1375, Kukaniloko, a high chiefess, became the first mo'iwahine (supreme female ruler) of Oahu because she was the first-born daughter of Piliwale, the mo'i of Oahu. He chose his daughter rather than "let the position fall to a male of junior lineage."
In about 1400, Kukaniloko's daughter, Kalanimanu'ia, succeeded her as mo'iwahine. In turn, she gave her position to her daughter, Kekala, a warrior chiefess. After Oahu, other islands accepted the practice of appointing female chiefs of high birth.
---
---


BY THE 1893 OVERTHROW of the Hawaiian monarchy, with Lili'uokalani, the younger sister of King Kalakaua, serving as queen, there was an established tradition of women in leadership.
Ty Tengan, an assistant professor of ethnic studies at UH, says that the colonization of Hawaii in part meant that Hawaiian women found themselves placed second to men and not even allowed to vote, much less run for political office. (American women won the right to vote in 1920.)
Haunani-Kay Trask, 55, an activist and UH professor in Hawaiian studies, has a similar take.
In her book, "From a Native Daughter," Trask wrote that American culture is a patriarchy that is "structured and justified by values that emphasize male dominance over women and nature (and that) American institutions reward men and male-dominant behavior with positions of power" which further entrenches the patriarchy.
"Colonization brought the replacement of the Hawaiian world by the haole world," Trask wrote. "Hawaiian women, including our chiefly women, lost their place just as Hawaiian men lost theirs."
She wrote that some men, including her father and uncles, entered the Legislature and the American political structure as Hawaii moved toward statehood. They believed the "only path to power" was through the American system and that Hawaiian ways were lost.
She wrote that as Hawaiian men, such as Sen. Daniel Akaka, "have been transforming themselves into politicians, many Hawaiian women have chosen the path of decolonization, testing their leadership in the movement for sovereignty."
Women, as an extension of their care for family, nurtured the idea of the new nation, she said.
"While Hawaiian men have come to achieve their own place in the Legislature and the governor's office, Hawaiian female leadership has come to the fore in the sovereignty movement. Of course, that is not to say there are no male leaders in our movement. But they are not the most visible," Trask wrote.
Several Hawaiian scholars also said that the annexation of Hawaii not only removed Hawaiian women from political power but also in many ways emasculated Hawaiian men, which gave more of an opening to women to lead.
IN THE 1970s, during the Hawaiian renaissance and the occupation of Kahoolawe to protest Navy practice bombings of the island, women were involved and clearly helped occupy the island. But as an occupation, some who were there say, it was more driven by the male leaders.
Certainly, male leaders like George Helm and Kimo Mitchell, who mysteriously disappeared on their surfboards, were in the news. Some of the male leaders of that generation, such as Charlie Maxwell and Dr. Emmet Aluli, are still active but are not as visible to the cameras at marches as the women.
Trask, who participated in the Kahoolawe occupation, later wrote about the sexism of many of the male leaders. She also wrote that once the movement became an issue of shaping a government, "women began to dominate."
Notably, Trask's sister, attorney Mililani Trask, 53, founded Ka Lahui Hawaii in 1987, a group seeking a native Hawaiian nation based on the model of American Indian nations. Mililani Trask and about 250 Hawaiians wrote a constitution establishing the nation known as Lahui, with Mililani Trask elected kia'aina (governor). Lahui has enrolled more than 20,000 Hawaiians, and its main aim is to wrest control of the trust lands.
UH's Tengan said that the emergence of Lahui, with its strong female leadership and the establishment of UH's Center for Hawaiian Studies, which attracted many Hawaiian women, meant that the face of the sovereignty movement became more female beginning in the late 1980s.
"The Center for Hawaiian Studies became the face of the movement, and that face was women who became the representatives of the movement," he said.
BACK TO TOP
|
Tonight on KITV 4 News at 10 ...
| | | |
| --- | --- | --- |
| | Native Hawaiians have the highest incidence of breast and lung cancer in Hawaii. Paula Akana introduces us to a young Hawaiian breast cancer survivor who is hoping to use her experiences to help other young women. | |
---
Tracking Time
1991 to present
Key dates in women's empowerment in Hawaii:
» 1996: Geologist Margaret Mangan became the first woman to head the Hawaiian Volcano Observatory.
» 2002: Republican Gov. Linda Lingle was elected Hawaii's first woman governor in the first U.S. gubernatorial race between two women; then-Lt. Gov. Mazie Hirono was the Democratic candidate.
>> 2002: The Rev. Ann E.P. McElligott was the first woman to be named dean of St. Andrew's Cathedral.
» April 2005: Debbie Akiona Eleneki (at left) was the first woman to be promoted to the rank of captain in the Honolulu Fire Department.
» July 2005: Denise Konan became the University of Hawaii-Manoa's first woman chancellor.
---