BOOKS
---
---
Fact in fiction
"Blood Red Sun" author
takes on tale of Japanese-
American soldiers
You can write about stuff, or you can do stuff, but it's hard to write about stuff without doing it first. Which might explain why author Graham Salisbury has worked as skipper of a glass-bottom boat, deckhand on a deep-sea fisher, rock 'n' roll musician (with a No. 1 hit in the Philippines!), elementary teacher and manager of a historic office building.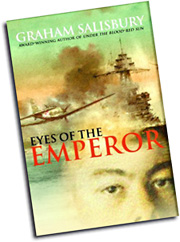 "Eyes of the Emperor"
By Graham Salisbury
(Wendy Lamb Books, $15.95, 2005)
But what he mostly does is write. And he specializes in one of the hardest arenas of all -- "juvenile" fiction, where no one cares about literary ability except for the grace of cleanliness and clarity and pure storytelling. What matters are characters that ring true and plots that sweep a young reader along. They're competing against video games and television and the beach and simply hangin' with the peers, after all.
Salisbury's books often have a Hawaii connection, and no wonder -- he was born and grew up here. And he seems to pop back into the islands often from his home base in Portland, Ore.
He grew up in Kailua, Oahu, and Kailua-Kona, graduated from Hawaii Prep on the Big Island, then left for college. But his family has been in Hawaii since 1820 and he still has siblings and cousins here. "I return to the islands around six to 10 times a year and have been doing that forever. It's very easy to research Hawaii that way -- plus, I get to see the world's best ocean and be with my family."
Salisbury's first book, "Blue Skin of the Sea," was set in Hawaii and won a fistful of awards. His second, "Under the Blood-Red Sun," about Japanese Americans caught up in the attack on Pearl Harbor, also won a raft of trophies and was something of a crossover best-seller, appealing to all ages.
His latest, "Eyes of the Emperor," is a companion volume and returns to that era with a story that seems highly fictional -- except that it really happened.
"In doing additional research after finishing 'Under the Blood-Red Sun,' I came across a book called 'Japanese Eyes, American Heart,' a wonderful anthology of memories of Hawaii's Nisei WWII soldiers," explained Salisbury.
"In that book I came across a chapter written by Raymond Nosaka called 'Japanese Dog Bait.' I read it solely on the power of the title. It stunned me. I said, 'Why have I not heard about this before now?' "
The story concerns Japanese-American soldiers used in a military experiment on Cat Island in the Gulf of Mexico to see if Japanese smelled any different form white soldiers, and if they could by tracked by dogs.
"My writerly self said, 'This has to be your next book!' I tracked Ray down -- one of the wonders of the Internet -- and said, 'Ray, I read your piece and would love to talk with you.' He, in his typically gracious manner, said, 'Would you like me to get some of the guys together?' Ho!" said Salisbury "I interviewed eight Cat Island guys at the 100th Infantry Battalion Veteran's Club on Kamoku Street in Honolulu. We were off and running."
---
---

In an Amazon.com review of the book, Hawaii teacher Jane Murphy Romjue noted that Salisbury "seamlessly puts the reader into places familiar today but with the tension and historical accuracy of the World War II setting; he uses a narrator in conflict with his culture and his country -- but not bitter about what is occurring around him -- to convey with immediacy and sensitivity the injustices suffered by the Japanese Americans during WWII; and he brings a human dimension to both sides of both conflicts."
Most of Salisbury's books are set in other times, albeit recent. Salisbury is less a history buff than a "human-interest buff, and if there ever was a human interest story, the one told in 'Eyes' is it. Those guys, the men of Company B, are tremendous. The camaraderie they shared then continues to this day. Out of the original 25 men, eight, I believe, are still with us today. They are a treasure that has gone unnoticed for far too long. Heroes one and all."
The book is a novel, not a memoir, and the main characters are fictional. Are they based on real people?
"They are in that this story is a true story -- told in fiction," mused Salisbury. "My characters come from within me, though, and are not based on any of the Cat Island men. I did leave a couple of true incidents in the book, however, and kept the real names of those involved.
"The book is character-driven with a decently strong plot. And there is no hidden agenda. My agenda is to tell a good story. If I can portray the honorable nature and loyalty of my characters, that would be a good thing, too. If my readers end up thinking about courage and sacrifice, well that would be great."
One of the real people who became a fictional construct is Tokuji Ono, drafted into the 298th Infantry and 100th Battalion after Pearl Harbor. He said it's "hard to gauge" the success of Salisbury's book because he's so close to the story.
"I wonder why he had to fictionalize real events," wondered Ono. "Some of the actual facts sound like fiction" -- he relates an incident in which an AJA soldier swam out to sea to rescue someone, used in the book -- "but there were places where he simply fictionalized stuff. Like one time, we were fishing in a school of mullet, and Mr. Salisbury, he made it a school of trout. Why? Dunno. But that's his privilege as a writer, I guess."
"Under the Blood-Red Sun" is by far Salibury's best-seller -- more than 500,000 copies sold and rising -- and is used in many American schools as an object lesson in useless racism. The sequel will be published next year.
According to Salisbury, the "world of books for young readers is thriving, even historical fiction. ... Which is great, because we have a lot to learn from our past."
Are kids today hipper (or less) than grown-ups think?
"Teens today are just like they have always been. The pressures are new and heavier, but they still want the same things we did -- acceptance, respect, success. Good stuff like that. ...
"I write for this age group merely by remembering myself at that age. My memory is full of that time in my life. I had the most glorious childhood ever. A Hawaii childhood -- it was just plain awesome. Hawaii is a special place, but more, it's a state of being. Aloha is way more than a word!"