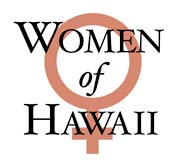 Challenges. Changes. Courage.

Day 3: Climbing Part Way
---
Risky business pays
off for Na Mea
bookstore owner
» Entire family sacrifices for mom's career
[an error occurred while processing this directive]
Maile Meyer remembers milestones in her career by the ages of her children.
She opened her first bookstore 15 years ago, yearning for a flexible work schedule after her daughter was born. Her son, now 9, was 5 months old when she went into business with local artists, inviting them to set up a cooperative while she ran a retail operation.
Then, in 2003, when her oldest became a teenager, Meyer started Na Mea Hawaii in Ward Warehouse. The shop sells native Hawaiian books along with arts and crafts from more than 300 artisans, and is designed to be self-sufficient -- allowing Meyer to put in work hours during nights and weekends so that she can have more time with her two kids.
"I think women have to be unbelievably creative to have children and come to work," Meyer said as she ate a quick lunch outside her shop.
The Stanford University graduate, 49, said that after she had her first child, she went out looking for "meaningful part-time work." She could not find any.
So she decided to take a big risk, get into something she loved, be her own boss.
The leap paid off, allowing her to create a retail store that has become a "community resource," attracting residents and tourists alike.
On a recent afternoon at Na Mea, two kupuna are weaving lau hala hats on a table near the rear of the store while a couple visiting from the mainland browse Meyer's collection of kukui nut leis.
Nearby, employee Rhonetta Tate stocks handmade brass bracelets with Hawaiian petroglyphs in a display case.
She has been working at the shop for two years, and it is like no job she has had before.
The way Meyer runs her business -- paying shopkeepers to learn Hawaiian, hula or weaving, and encouraging them to take extra-long lunch breaks so they can take a swim or jog at Ala Moana Beach Park -- is radical, she says, and so refreshing.
"For me it's a learning experience," Tate said, adding that she has been able to reconnect with her Hawaiian heritage in weekly weaving classes, which are held in the store.
That makes Meyer proud.
She delights in seeing her employees learn more about Hawaiian history -- their history -- and insists they choose a book a month to take home for free. She also pushes her artisans, 75 percent of whom are women, to go into business for themselves, and several of them have.
Jen Kunishima, owner of Hawaii Doggie Bakery, which is a few doors down from Na Mea at Ward Warehouse, used to sell jewelry at Meyer's store.
The clothes at Mango Season in Kaimuki were also featured.
Meyer, who laughs easily and often, says women are natural business owners because they can communicate well, multitask and solve problems.
The biggest problem they encounter is finding enough startup capital.
Meyer is way past that one. In fact, she is doing so well at her new location that she plans to expand, adding a bigger book section and more tables so that people will sit and stay awhile.