---
[ FAST FACTS HAWAII ]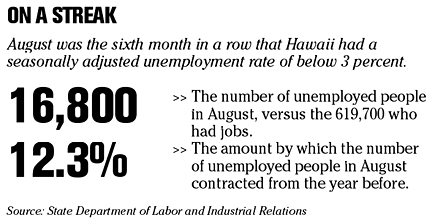 ---
BACK TO TOP


|


HAWAII
America West ends Hawaiian deal America West, confirming what Hawaiian Airlines said two months ago, announced yesterday it will end its trans-Pacific code-share agreement when it begins service to the islands beginning Dec. 16. However, Phoenix-based America West said the two carriers will continue to be interisland and South Pacific partners.
Code-sharing allows a carrier to sell flights to another carrier as its own.
America West said members can continue to earn miles on Hawaiian Airlines trans-Pacific flights for tickets issued before Dec. 15 when travel occurs on or before June 14, 2006.
NATION
ATA reaches agreement with pilots ATA Airlines, which is seeking a $100 million investment to help it exit bankruptcy, reached agreement with its pilots on pay concessions into 2008 that the union said will save the company more than $84.5 million.
The new accord extends pay cuts, currently about 18 percent compared with 2003 rates, to Sept. 30, 2008, ATA's pilots union said yesterday. The contract, which also includes benefit reductions, gives ATA $40 million in savings next year, $44.5 million in 2007 and an undetermined amount in 2008.
The contract will take effect Oct. 1 if the airline's pilots vote in favor of it this month, the union said.
Carnival net up, but Katrina looms
MIAMI »
Carnival Corp.,
the world's largest cruise-ship operator, said yesterday that profit rose 12 percent in its fiscal third quarter as higher ticket prices and increased onboard sales drove growth. But the company expects to miss Wall Street expectations for this quarter because of Hurricane Katrina.
For the three months ended Aug. 31, the Miami-based company earned $1.15 billion, or $1.36 per share, up from $1.03 billion, or $1.22 per share, a year ago. Excluding one-time charges, the company said it would have earned $1.41 a share in the latest quarter.
Revenue rose 11 percent to $3.61 billion from $3.25 billion as cruise capacity rose 5.2 percent and ticket prices and onboard sales also gained.
Nike profits rise 32% on 10-year-high sales
BEAVERTON, Ore. »
Nike Inc.
, the world's biggest athletic-shoe maker, said first-quarter profit rose 32 percent, helped by sales of new lines of Shox sneakers and lower marketing costs. Nike's global orders rose at the fastest pace in at least 10 years.
Net income increased to $432.3 million, or $1.61 a share, from $326.8 million, or $1.21, a year earlier. Revenue climbed 8.4 percent to $3.86 billion.
Sales of $100 Shox Cog running shoes helped lift revenue 8 percent in the United States and 13 percent in Asia. Worldwide orders rose 11 percent, exceeding analysts' estimates.
Wendy's president Mueller resigns
DUBLIN, Ohio »
Wendy's International Inc.
, the nation's third-largest hamburger chain, announced yesterday that President and Chief Operating Officer Tom Mueller has resigned for personal reasons.
Chairman and Chief Executive Jack Schuessler will take on Mueller's responsibilities until a successor is named, spokesman Denny Lynch said. Schuessler was president and COO from 1997 until 2000 when he became chief executive.
HP offers $425M for Peregrine Systems
Hewlett-Packard Co.
, the world's largest maker of computer printers, agreed to buy
Peregrine Systems Inc.
for $425 million to add software for companies to manage their computer systems.
The offer of $26.08 a share is 37 percent more than Peregrine's closing price Friday in over-the-counter trading. Peregrine's asset- and service-management software will be added to the OpenView business unit.