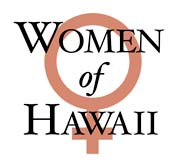 Challenges. Changes. Courage.

Day 2: Doors Wide Open
---
---
Isle girls outpace
boys in many
school subjects
Females make up 60 percent
of the UH student body and
have made impressive gains
in sports other than football
Second of nine parts
Sitting on the steps of the Hawaii State Library, Lauren Yip balanced a law school test preparation book on her knees, quickly circling the answers in pencil.
[an error occurred while processing this directive]
The 23-year-old Mililani resident said she gets a lot of encouragement from her boyfriend in her quest to attend law school.
"He's real excited," she said. "He wants me to be the breadwinner. He says I have to buy him a Range Rover. He says, 'I'll support you during law school, and after that you can support me for the rest of my life.'"
Yip is at the leading edge of the latest generation of women, who grew up with doors open to them in all directions, as a matter of course. In high school and college, they are quickly becoming the dominant sex on many academic fronts.
And even in athletics, that bastion of male domination, they have made inroads to the point where it is ruffling some feathers, as Honolulu's teen sensation Michelle Wie has found.
A recent study by the U.S. Department of Education, "Trends in Educational Equity of Girls and Women: 2004," concluded that "females have higher aspirations than males while in high school ... and they persist and complete degrees at higher rates than males."
"It is clear that girls are taking education very seriously and that they have made tremendous strides," said Rod Paige, then-secretary of education, in releasing the report. "The issue now is that boys seem to be falling behind."
Certain fields, such as engineering, computer science and sports, still attract more males. And once they are in the working world, men continue to dominate economically. But at school the new trend is toward female success.
In the University of Hawaii system as a whole, from community college through graduate school, female students now outnumber males nearly 60 percent to 40 percent. The top professions, too, show dramatic change.
At the UH law school, 49 women and 38 men received their law degrees in the class of 2005. Thirty years ago, men outnumbered women 2-to-1.
At the UH medical school, nearly half of the students graduating as medical doctors this year were women, and the first-year class that just started has more women than men. In 1976, roughly a generation ago, only one in four medical students were women.
"Growing up, my parents set really high expectations for me, to be a lawyer or a doctor or the first woman president," Yip said. But it was a mixed message even then. Her mother wanted to be sure that Lauren stayed ladylike, and told her, "You can't do karate. You can't ride a bicycle."
That outlook seems quaintly outmoded today. Girls now account for 42 percent of all student athletes in Hawaii's public high schools, up from 36 percent just eight years ago. That is edging close to equal representation. (Overall, just 48 percent of students enrolled in Hawaii's public high schools are female.)
To help boost female athletes, the Department of Education has added several new girls sports in the last six years, including varsity water polo, as well as junior varsity wrestling, soccer and softball.
"There was a big jump in girls' participation," said Raymond Fujino, civil rights compliance specialist at the state Department of Education. Still, he added, "we've been falling short, primarily because of football."
Football is officially a coed sport, but just a few girls statewide join their high school football teams annually. There are more male cheerleaders than female football players on the playing fields of Hawaii's public high schools.
Television anchor Diane Sawyer recently called teen golfer Wie "the great hope for every woman who dreams someday that there will be a woman right there taking on and beating the men." Wie's contemporaries are less likely to look at it that way.
"I think we've already had that breakthrough," said April Domingo, a 16-year-old junior at Waipahu High School. "She's just supporting us by doing that."
At Punahou School, junior Tim Harrison is rooting for Wie, his friend and classmate, in taking on male professional golfers.
"She should be playing with them," he said. "She's better than most of them. You don't see Tiger Woods complaining. It's the ones that are mediocre that are frustrated."
In interviews with dozens of teenage and college-age women, from the Waianae Coast to Windward Oahu, most drew blanks when asked if they had faced any hurdles or discrimination because of their gender. A few pointed to football, or the unequal distribution of household chores. A couple mentioned lyrics in popular music that degrade women. But mostly, they felt in charge of their destinies.
B.K. Cannon, an outspoken 15-year-old who lives in Kailua, carries a gray canvas handbag emblazoned with the word "independent." At Ala Moana Center with two girlfriends earlier this month, she mused about her grandmother's time versus today.
"My grandmother said that as a woman, you didn't want to bring attention to yourself," Cannon said. "And the first thing she would do every morning was put on makeup so she'd look good for her husband."
"That's mind-boggling," she said, shaking her head.
She and her friends do not defer to the guys in class. "The girls are much more vocal about their ideas," Cannon said. "The boys are just sitting there thinking, 'When's lunch?'"
Across the country, girls outnumber boys in academic clubs and student government. Local yearbooks reinforce that lopsided image. At Lanai High and Elementary, every student government position was taken by a female last year. At Waianae High School, just one of 12 Student Union officers was a boy.
Girls trounce boys on reading tests throughout their school years in the United States. Despite the perception that males dominate in math, 12th-grade scores in math and science on the National Assessment of Educational Progress now show no significant gender difference, the federal report said.
At McKinley High School, girls out-represent boys 60-40 in Advanced Placement courses in biology, calculus and chemistry combined. At Moanalua High School, it is 50-50 in these traditionally male-dominated subjects. At Waipahu High School, Advanced Placement class enrollment is nearly two girls to every boy, although more boys are taking AP physics.
"There's only two guys in my AP biology class," said Frenzy Mendoza, a senior at Waipahu who wants to become a registered nurse. The class has 19 students.
Mendoza is enrolled in a program that helps prepare students from disadvantaged backgrounds to compete in medical and health careers.
---
---


"We struggle to get the boys to apply," said Lokelani Kenolio, high school coordinator for the Health Careers Opportunities Program at the University of Hawaii. "Out of the 50 kids, 45 are female."
"The females seem to have the strong interest and the will," she said. "They want to know, 'What do I have to do? What kind of classes do I have to take?' I notice that for more of our boy students, it's not until their senior year they'll ask, "What do I have to do?' -- even though we encourage them from freshman year."
"With the girls there's this sense of seeing ahead," she added. "I don't know why our guys are not there. Their brains are not at that point of wanting to look ahead."
The female drive to succeed in school, however, has not yet resulted in economic clout once they enter the working world.
"Although we're doing well in terms of education, the economic payoff is crummy," said Amy Agbayani, director of the University of Hawaii's Office of Student Equity, Excellence and Diversity. "Still, a college female graduate receives about the same as a high school male graduate in terms of salary. It doesn't translate into economic power and management leadership."
Chloe Hartwell, a junior at Punahou, said she has yet to feel the sting of discrimination, but she knows it is out there.
"Studies have shown that women do not receive equal pay for equal work," she said. "It's something that just comes with a not completely evolved culture. Unlike in Europe, we don't have extended leave with pay for maternity. There, even the fathers get it."
John Leon Guerrero, 22, who works as a mechanic in the Coast Guard, agrees that change might be slow in coming. Some of his colleagues resent their female counterparts, saying they take longer to fix things. And when a female soldier is captured, it is a much bigger deal than if it is a male, he noted.
"Even in today's society, you see a lot of women stepping up, athletes, senators," Guerrero said. "But it's going to take the male race a long time to get used to that."
---
BACK TO TOP
|
Tonight on KITV 4 News at 10 ...
| | | |
| --- | --- | --- |
| | A talented athlete. Football player. Female. The face of high school sports is changing, and she's leading the charge. Paula Akana has the remarkable story of a McKinley High School junior who is breaking down barriers. Tonight on Island Television News. | |
---
BACK TO TOP
|
Girls vs. Boys on Tests
Girls trounce boys in reading and are now on par with them in math. This is according to scores in the 2003 National Assessment of Educational Progress test for eighth grade, on a scale of zero to 500. The test is given every two years. Scores for 2005 will be released in November.
Reading Scores
| | | |
| --- | --- | --- |
| | Boys | Girls |
| Hawaii | 245 | 258 |
| United States | 256 | 267 |
Math Scores
| | | |
| --- | --- | --- |
| | Boys | Girls |
| Hawaii | 265 | 266 |
| United States | 277 | 275 |
Source: Hawaii Department of Education
Girls in sports
More girls are playing sports in Hawaii's public high schools than before. They now account for 42 percent of all student-athletes, close to parity. Overall, 48 percent of students enrolled in Hawaii's public high schools are female.
| | |
| --- | --- |
| Year | % female |
| 1996 | 36% |
| 1997 | 38% |
| 1998 | 38% |
| 1999 | 39% |
| 2000 | 41% |
| 2001 | 40% |
| 2002 | 40% |
| 2003 | 42% |
| 2004 | 42% |
Source: Hawaii Department of Education
---
1910 ~ 1939
Key dates in women's empowerment in Hawaii:
» 1912: Louise Gulick became the first woman to graduate from the University of Hawaii (then the College of Hawaii).
» 1913: Edna Isabel Allyn was named Hawaii's first female librarian.
» 1914: Jennie Robertson Ashford was appointed as the University of Hawaii's first female regent.
» 1920: Johanna Wilcox was the first woman to register to vote in Hawaii, just after American women were given the right in 1920.
» 1925: Rosalie Kellinoi became the first woman to be elected to the state House. Five years later she introduced landmark legislation to allow women to sell their properties.
» 1929: Laura Nott Dowsett became the state's first female professional occupational therapist.
» 1932: Elsie Hart Wilcox was the first woman elected to the Territory of Hawaii's Senate.
» 1934: Carrick Buck became the state's first female Circuit Court judge. A year later she was appointed Hawaii's first acting state Supreme Court justice. In 1925 she was named the first female assistant U.S. attorney.
» 1934: Marguerite K. Ashford was named the Territory of Hawaii's first female deputy attorney general. Eighteen years later she became the first female member of the governor's Cabinet as commissioner of public lands.