Disaster education
is advised
Legislators are urged also to
retrofit schools and public
buildings to serve as shelters
The state should consider funding school and public programs to better educate Hawaii residents about preparing for hurricanes and other natural disasters, emergency responders told state legislators yesterday.
"Back when I was in school, in the fourth grade they wanted you to learn to swim," said John Cummings III, Oahu Civil Defense Agency plans and operations officer.
Maybe schools should require basic disaster training for all fourth- or fifth-graders, he told members of the House Committee on Public Safety and Military Affairs and the Senate Committee on Education and Military Affairs.
Yesterday, lawmakers concluded two days of hearings on disaster preparedness and recommendations from state, Oahu and Red Cross officials. The committee members will review suggestions as they prepare legislation for the 2006 session, said state Rep. Pono Chong (D, Enchanted Lake-Maunawili-Kaneohe).
"We rely on you as experts to come up with good policies to prepare for what most experts say will happen," Chong said, referring to a hurricane disaster somewhere in Hawaii.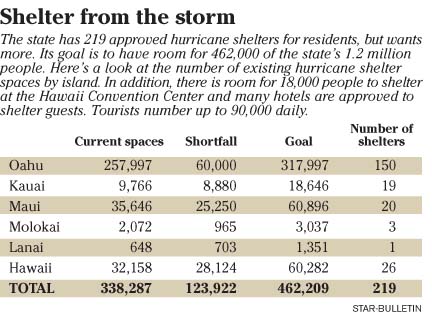 ---
State Health Director Chiyome Fukino asked legislators to consider taking steps to require builders of high-rise, "glass boxes" to provide hurricane-safe community rooms or garages to shelter their residents.
One of the images that struck Fukino from watching television coverage of the aftermath of Hurricane Katrina in the Gulf Coast has been "seeing curtains flapping in the breeze" from smashed out windows, she said.
Emergency response leaders also asked lawmakers to consider:
» Funding a four-year, $35 million program to retrofit more schools and public buildings to serve as hurricane emergency shelters.

» Requiring new state buildings, including schools, to be built to hurricane-resistance standards.

» Requiring new housing developments to install Civil Defense warning sirens and hurricane-proof community centers.
Lawmakers asked emergency workers to improve plans to help elderly or ill residents get to emergency shelters, perhaps providing special needs shelters on each island.
Cummings said there are at least 16,000 elderly, disabled or ill Oahu residents who would need assistance in an emergency -- too many to have fire and police officers escort them to shelters one-by-one.
Any health-care facility with five or more residents must have an emergency plan for how they will be evacuated, Cummings said.
Lawmakers said they want state agencies to check their own disaster plans and those of private agencies they oversee -- to make sure participants in the plans know their jobs.
Sen. Suzanne Chun Oakland (D, Kalihi-Nuuanu), asked the Red Cross, Department of Education, and state and county Civil Defense to make sure all plans "have redundancy."
Chun-Oakland was responding to an anecdote about a school on the Waianae Coast being unable to open as a Hurricane Iniki shelter in 1992, because the only person with the keys lived in another area and couldn't get there.