---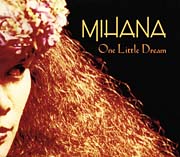 "One Little Dream"
Mihana
(IM Recordings)
Mihana Souza took a lot of people by surprise with her first solo album, "Rust on the Moon." Who knew that a woman with such impeccable traditional Hawaiian music credentials had such range as a pop artist? "Rust" earned Souza her first solo Hoku Award in 2003. "One Little Dream" proves that we ain't heard nothing yet.
Souza opens with a very non-traditional version of a family chant, then moves with ease through a marvelous collection of original light jazz and foot-tappin' acoustic rock. "Don't" brings Christine McVie to mind, and on "Road" she sounds just a touch like Enya, but Souza never clones the voices of other artists. Why should she when her own is so mesmerizing?
The arrangements impress, too. The rock tunes rip; the jazz ballads are cocktail-lounge smooth. Touches of ukulele and steel guitar give "Wrap" an exotic tropical sound. Dobro and mandolin provide folkish nuances elsewhere.
As with "Rust," the title song is a composition by her mother, the late Irmgard Farden Aluli. Souza interprets it beautifully. Other family ties include erudite annotation by Hailama Farden (representing a different branch of the Farden family), and the fact that "Chucky" is a rocking ode to her husband's awesome culinary skills.
---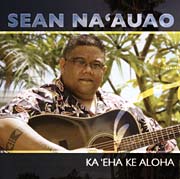 "Ka 'Eha Ke Aloha"
Sean Na'auao
(Poi Pounder)
Sean Na'auao is one of the few artists of his generation to make a name for himself in both Jawaiian and contemporary Hawaiian music. Na'auao helped define the best and worst elements of Jawaiian music as a member of the Mana'o Company. He next distinguished himself as a solo artist with his 1997 hit, "Fish & Poi." In recent years he has shown a sincere commitment to his Hawaiian culture. This is another welcome step in that direction. As an artist and as a producer, Na'auao gets it all right.
Most important, of course, is his voice. Na'auao has never sounded better. He uses multi-tracking to add backing vocals and harmonies, but "Waikiki Hula" shows his strength as a solo voice. Multi-tracking also allows for more elaborate instrumental arrangements; Na'auao's decision to use traditional instruments and avoid synth-tracks enhances the purity of the music. Having steel guitarist Greg Sardinha sit in on a song or two also works well.
Two of the Hawaiian songs are by Na'auao and his wife, Kau'i: "Ni'ihau O Kanelelani" and "He Lei Makana," which appears to speak of love and a new beginning, although there is certainly deeper kaona (hidden meaning).
The couple also wrote "No Hawaiians, No Aloha" a rollicking hapa-haole anthem that makes an important point in firm but gentle style. Don "King Don 1" Keala Kawa'auahu of Sudden Rush adds militant undercurrents as guest rapper on the selection.
---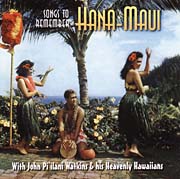 "Songs to Remember Hana-Maui"
John Pi'ilani Watkins & his Heavenly Hawaiians
(HanaOla)
Re-issues of vintage Hawaiian records are welcomed by music fans and language students alike. No one has yet surpassed Michael Cord and HanaOla in electronically restoring and re-issuing these out-of-print treasures. This one reintroduces 12 recordings made by the late John Pi'ilani Watkins for 49th State Hawaii Records in the mid-1950s. Only about 35 minutes of music are here, but that's enough to show that Watkins deserves more recognition than he's received since his death in 1983.
Most are originals, and it's always a bonus to hear a song performed by the writer. Several are ostensibly about Hana, although only Watkins and a few close friends may have known what additional meanings the Hawaiian lyrics contain. Others --some by Watkins, other not -- share similar sentiments about the beauty of Hana in straight-forward English. The rhythms, the melodic riffs, the interplay between the instruments and the vocal arrangements are the music of a Hawaii that's long gone, but still cherished in memory.
Cord's wife, Maryann, gets credit for the biographical information that's been added to the original liner notes. Additional background information on Watkins, his group and the history of these recordings would be helpful in putting these recordings in their historical context, but the beauty of the music this re-issue welcome anyway.

John Berger, who has covered the local entertainment scene since 1972, writes reviews of recordings produced by Hawaii artists. See the Star-Bulletin's Today section on Fridays for the latest reviews. Contact John Berger at
jberger@starbulletin.com
.