---
[ FAST FACTS HAWAII ]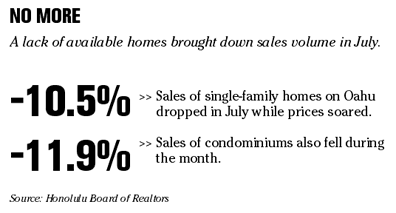 ---
BACK TO TOP


|


Hawaiian draws more passengers
Hawaiian Airlines
' passenger count increased 2.5 percent in July, and its planes were 89.8 percent full, the company said.
For the year, Hawaiian's passenger count is about flat, but total miles flown by paying passengers has risen 6.9 percent.
Adjustable rates rise to 3-year high
WASHINGTON » Mortgage rates rose again this week, with 30-year mortgages hitting their highest level in four months and one-year adjustable rate mortgages rising to the highest level in more than three years.
In its weekly survey, mortgage giant Freddie Mac reported yesterday that rates on 30-year, fixed-rate mortgages rose to a nationwide average of 5.89 percent, up from 5.82 percent last week.
It marked the sixth week in a row that rates on 30-year mortgages have risen, pushing them to the highest level since they averaged 5.91 percent for the week ending April 14.
For one-year adjustable rate mortgages, rates rose to 4.57 percent, up from 4.47 percent last week. That was the highest level for one-year ARMS in more than three years, since they averaged 4.66 percent in mid-July 2002.
Oil prices reach past $66 a barrel
SINGAPORE » Crude oil prices breached records today, climbing past $66 a barrel as reports of new U.S. refinery outages rekindled fears that gasoline supplies in the world's biggest consumer would struggle to meet rising demand.
Midmorning in Singapore, light, sweet crude for September delivery rose as high as $66.10 a barrel in Asian electronic trading on the New York Mercantile Exchange. It then slipped back a bit to $66.08, up 28 cents.
Gasoline rose 1.3 cents to $1.9630 a gallon, while heating oil rose 1 cent to $1.9097.
Analysts said gasoline demand, currently at its peak in the U.S. summer driving season, was driving crude's gains. Last week, U.S. gasoline demand picked up by 1.4 percent from a year ago, according to government data.
Japan's economy still expanding
Japan's economy expanded for a third straight quarter, led by business and consumer spending, supporting expectations that a recovery from the country's fourth recession since 1991 will be sustained.
The world's second-largest economy grew at an annual 1.1 percent pace in the April-June quarter, the Cabinet Office said today in Tokyo. The figure lagged behind economists' expectations, partly because gross domestic product for the first quarter was revised to show a 5.4 percent pace of growth, from 4.9 percent.
Manufacturers are expanding to meet a recovery in overseas demand, and consumers are shopping more as wages rise and employment prospects brighten. Machinery orders surged 11.1 percent in June, a report showed this week, suggesting the economy will keep growing as Prime Minister Junichiro Koizumi prepares for next month's election.
The yen was poised for its biggest weekly gain versus the dollar. And the Nikkei 225 Stock Average earlier rose to its highest in four years as the government said overseas investors increased share purchases.
Pfizer will wait before advertising
NEW YORK »
Pfizer Inc.
pledged not to directly promote any new product to patients for at least six months after putting it on the market and to target only adult audiences when touting impotency treatment Viagra on TV.
The company's move to quell criticism of consumer drug advertising follows last week's announcement by the pharmaceutical industry of new guidelines designed to better communicate benefits and risks of products to patients.
---
BACK TO TOP
|
[Hawaii Inc.]
NEW JOBS
»
Helber Hastert & Fee Planners Inc.
has hired
Charles E. Wilson
as senior planner. He will be responsible for preparing and coordinating environmental assessments and environmental impact statements. He previously worked as a an
ECM Inc.
planner/analyst.
» Island Insurance Cos. has appointed Sandra E. Siu marketing division communications specialist. She will be responsible for administering corporate communications, public relations and advertising efforts for the company. She has more than 15 years experience in media, advertising and client relations.
» First Hawaiian Bank has appointed Charles S.J. Davis vice president and security department manager. He has over 30 years of security experience and served 24 years with the Honolulu Police Department.
» Kapalua Land Co. has appointed Tom Juliano president and CEO. He will be responsible for all resort operations. He has over 25 years experience in the resort and hotel industry.
ON THE BOARD
» The Association of Legal Administrators, Hawaii Chapter, has announced its officers for 2005-2006:
Cynthia Kirby
,
Goodsill Anderson Quinn & Stifel
office manager, president;
Blane Fujiwara
,
Char Sakamoto Ishii Lum & Ching
office manager, president-elect;
Diane Sherman, Bendet Fidell Sakai & Lee
office manager, secretary;
Lori Isaki, Reinwald O'Connor & Playdon
financial manager, treasurer;
Ann Hisamoto, Cades Schutte LLP
administration director, immediate past president.