---
[ FAST FACTS HAWAII ]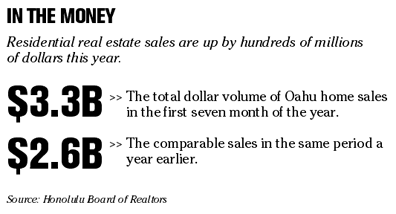 ---
BACK TO TOP


|


State approves first new bank since 1989
Pacific Rim Bank
has received preliminary approval from the state Department of Commerce and Consumer Affairs to open the first new Hawaii bank in more than 45 years, officials said yesterday.
The single-branch bank is seeking approval on applications with the Federal Deposit Insurance Corp., and for a state charter before it can begin to operate in the islands.
Pacific Rim Bank's application was accepted by the state Division of Financial Institutions in June after it reviewed the proposed managers and directors, capital plan, business strategy and financial projections, policies and procedures.
Pacific Rim Bank is the first bank since 1989 to seek to establish commercial operations in Hawaii.
State tax collections up 4.9%
State tax collections for the new fiscal year are off to a good start, state tax officials said yesterday.
General fund revenues for July totaled $267.2 million, an increase of 4.9 percent over July of last year, the state Department of Taxation reported.
General excise and use taxes, which account for more than half of all general fund revenues, totaled $141.75 million, an increase of 3.7 percent from a year earlier.
Corporate income taxes totaled $4.1 million, an increase of 98.7 percent, while individual income tax revenues were $96.7 million, an increase of 1.9 percent.
Collections of the transient accommodation tax , also known as the hotel room tax, totaled $16.5 million for the month, up 54.7 percent from July 2004.
Hoku Scientific joins local index
Hoku Scientific Inc.
, a Kalihi-based fuel-cell technology developer, has been added to the Bloomberg Honolulu Star-Bulletin index.
The addition of Hoku, which held its initial public offering on Aug. 5, will expand the number of members in the index to 11. The price-weighted index, designed to measure the performance of companies in Hawaii, was developed with a base value of 100 as of Dec. 31, 1999. The index closed yesterday at 369.43.
Crude oil prices top $65 a barrel
Oil prices zoomed higher yesterday, touching a new high of $65 a barrel in New York, with buyers focused on refinery snags, shrinking U.S. inventories of gasoline and motorists' growing thirst for fuel despite record-high costs. In later Asian trade, the price moved above $65.
The latest rally -- crude futures have risen 14 percent in three weeks -- highlights just how nervous the market has become to output threats. It doesn't seem to matter, analysts said, that the country has enough fuel in inventory to offset routine supply disruptions.
The heightened sensitivity comes amid strong demand in the United States and China, the world's top consuming nations, where high prices have tempered rising fuel consumption only slightly.