---
Hearing looks into effects of alien species
Fighting alien plant and animal species in national parks is the topic of a congressional field hearing tomorrow at Volcanoes National Park on the Big Island.
U.S. Sen. Daniel Akaka, ranking member on the Subcommittee on National Parks, requested and will chair the hearing at 10 a.m.
"Invasive species cause devastating environmental, human health and economic consequences throughout the nation and world," Akaka said. "They severely damage native ecosystems and vital industries such as agriculture, fisheries and ranching. The impacts of invasive species are estimated to cost the United States at least $100 billion each year and threatens the existence of 42 percent of endangered species in the country."
Hawaii, the "endangered species capital of the world," is particularly at risk from alien pests because of its high number of unique species, Akaka said.
Last month, Akaka introduced the Public Land Protection and Conservation Act of 2005 (S. 1541), which would authorize grants to states, nonprofit agencies and tribal entities to assess, control and eradicate invasive species on public and adjacent lands.
Seminars give tips on hazardous materials
Workshops on proper handling, management, transport and storage of hazardous materials will be held Aug. 26 through Sept. 1 in each county.
The free, day-long workshops are sponsored by the U.S. Environmental Protection Agency and state Department of Transportation.
Business owners who handle chemicals, local and state agency personnel, and interested community members are encouraged to attend. Pre-registration by Aug. 15 is required due to limited space.
EPA and DOT staff will make presentations and distribute guidance documents and information. The workshops will be 8 a.m. to 4 p.m. at the following locations and dates:
» Aug. 26: State Department of Health, 919 Ala Moana Blvd., fifth-floor conference room.
» Aug. 29: Hawaii Naniloa Resort, 93 Banyan Drive, Aloha Room, Hilo.
» Aug. 31: Maui Electric Building, 210 W. Kamehameha Ave., Kahului.
» Sept. 1: Kauai War Memorial, Exhibition Hall A, Convention Hall, 4191 Hardy St., Lihue.
To pre-register:
» By e-mail: bodined@saic.com.
» By phone: Diane Bodine at 530-873-2575.
» By fax: 510-466-7919 or 808-541-2712.
For more information, contact Dean Higuchi at 541-2711.
State energy lab signs deal with vehicle firm
KEAHOLE, Hawaii » An Arizona company that develops small, remotely operated vehicles with sensing devices has signed a one-year, renewable agreement to conduct work at the Natural Energy Laboratory of Hawaii Authority north of Kailua-Kona.
Physics, Materials & Applied Mathematics Research LLC (PM&AM Research) of Tucson signed a rental agreement for office space from May 2005 to April 2006, the state energy laboratory announced last month.
"These mini-ROV are designed to carry sensor packages for data collection, imaging and processing. In the ocean these capabilities can be used to inspect pipelines and other structures that may be too dangerous or costly for human divers to inspect," the state agency said.
The company plans to continue education efforts at its Arizona facility. It noted that Hawaii Preparatory Academy graduate Marvin Kawano, now a student at Rice University in Texas, is assisting the company in developing a remote vehicle that uses lasers to examine invasive underwater species.
Center to honor martial arts teachers
Japanese martial arts were introduced to the islands with the arrival of Japanese immigrants in 1885.
Martial arts instructors have in turn introduced scores of Hawaii residents to aikido, karate, kendo and judo ever since.
All teach respect, self-discipline and other pillars of Japanese culture.
On Sept. 17 the Japanese Cultural Center will honor a group of martial arts teachers for their contributions to Hawaii.
Receiving the center's Leadership and Achievement Award are aikido instructors Takashi Nonaka and Shinichi Suzuki; karate instructors Bobby Lowe and James Miyaji; kendo instructors Dr. Noboru Akagi and Shigeo Yoshinaga; and judo instructors Albert Aoki and Tsuruo Fukushima.
The event will start at 5 p.m., with a silent auction and no-host cocktails.
At 6:30 p.m. the dinner and program will begin in the hotel's Coral Ballroom and Lounge.
Tickets cost $150, with proceeds going to the center's programs and initiatives.
For more information, contact the center at 945-7633 or go to its Web site, www.jcch.com.
Police, Fire, Courts





By Star-Bulletin staff



LEEWARD COAST
Driver in hit-and-run accident arrested
Police arrested a 21-year-old Waianae man yesterday after he was involved in a hit-and-run collision on the Leeward Coast that sent six people to the hospital.
The collision occurred on Farrington Highway near Ala Akau Street at 12:55 a.m.
Police said the driver was traveling east on the highway in a red 1992 Mazda and struck the rear of a 2003 blue Chevy pickup truck traveling in the same direction.
The pickup truck was driven by a 24-year-old Waianae woman with five passengers.
Police said the driver and two cab passengers, a 21-year-old woman and another female passenger, were flown to the Queen's Medical Center in serious condition.
Three passengers in the truck bed, a 20-year-old woman, a 24-year-old woman and a 25-year-old man, were also flown to Queen's in critical condition.
Police said the driver of the Mazda fled on foot after the collision but was later located and arrested on suspicion of failure to render aid.
Speed and alcohol were factors in the crash, police said.
WINDWARD OAHU
Missing man's glasses found on hiking trail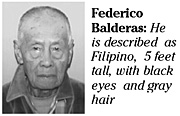 Authorities continued their search yesterday for a 90-year-old man who was last seen Friday in Kaneohe.
Federico Balderas of Lanai, who is staying with relatives in Kaneohe, was last seen at 6:45 a.m.
Balderas' prescription glasses were found yesterday, about a half-mile from where his handkerchief was found above a trail in Hui Akepa Place Saturday, said investigator Phil Camero, of the HPD's Missing Persons Detail. Authorities focused their search in that area yesterday.
Police earlier said that Balderas, who suffers from dementia, might have hiked into the mountain area behind Hui Iwa Place in Kaneohe.
Helicopters from the Honolulu Police and Fire departments conducted a search over the weekend.
Camero said their police helicopter used an infrared camera to assist in their search for Balderas. Members of the Specialized Services' Canine Unit conducted a ground search.
Fire rescue personnel, federal firefighters and officials from the Department of Land and Natural Resources assisted police in the search. Hundreds of volunteers distributed fliers in the community, Camero said.
The search is expected to continue today.
Balderas is described as a man of Filipino descent, 5 feet tall and 110 pounds. He has black eyes and gray hair. He was last seen wearing a blue Las Vegas cap, long black pants, jeans jacket, slippers and prescription glasses.
Anyone with information on Balderas' whereabouts can call Camero at 529-3394 or CrimeStoppers at 955-8300.
HONOLULU
Palolo man dies after falling off rooftop
An 83-year-old man died Friday at the Queen's Medical Center from injuries he suffered from a fall.
The Honolulu Medical Examiner's Office identified the man as Robert Shogi Kamida of Palolo Valley.
Police said Kamida fell about six to eight feet off his rooftop while he was trying to make repairs.
He was taken to Queen's, where he later died. Police said there were no signs of foul play.