---
909 Kapiolani raises
prices of pre-sold units
Buyers must decide by Aug. 12
on increases of up to 25 percent
Buyers of the most sought-after units at 909 Kapiolani, one of the new high-rise condominium projects planned for Kakaako, are facing price increases of potentially more than $125,000 if they want to keep their right to purchase one of the pre-sold units.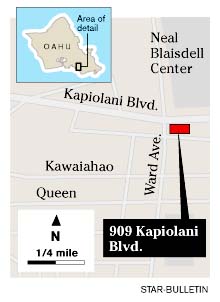 Rising construction costs and permit delays have forced Posec Hawaii Inc., a subsidiary of one of South Korea's largest steel companies, to join a growing list of developers who have had to raises prices on pre-sold units to keep their projects afloat, said Larry Fukunaga, 909 Kapiolani's project manager.
"This is all driven by construction cost increases which were beyond our control," Fukunaga said. "We tried to resist this quite a bit, but we didn't want to cut corners on the project. There is only so much that you can do before you run out of value engineering options."
Prices at about 39 condominium units in the 225-unit high-rise, which sits at the corner of Ward Avenue and Kapiolani Boulevard, will increase by 16 percent to 25 percent to offset construction costs, which have risen 40 percent since the company began taking reservations for its first units, Fukunaga said.
The affected buyers are being notified that the price they will need to pay for their unit has increased, he said. Buyers have until Aug. 12 to decide whether they can afford the higher prices and want to pay up. Prices in the project range from about $260,000 to $750,000 for standard one- and two-bedroom units. Penthouse units retail for up to $1.5 million.
"We expect some cancellations," Fukunaga said.
Approximately 80 percent of the project has been pre-sold, but Posec plans to release more units at higher prices in late August.
While developers typically try to prevent price increases on pre-sold units, disappointed buyers at 909 Kapiolani are not alone in this market, where construction costs are rising alongside housing prices.
Earlier this year, some buyers at the Kulana residential project on Kauai and the low-rise Loft@Waikiki also were informed they faced similar price increases, which in some cases would make them unable to afford the units they contracted to buy.
Kulana buyers, who were told by developer Kapaa 383 that they would have to pay more for their units, are nearing a resolution, said Jim Bickerton, an attorney representing buyers.
"We represented 13 buyers, and we expect that they will be able to work this out," Bickerton said.
Although Kulana buyers were given actual contracts and not reservation agreements, every case is different, and even buyers without contracts might be able to get legal relief if developers raise the prices of pre-sold units, Bickerton said.
"I think the way that most buyers can protect themselves is to understand exactly what they are buying," he said. "The (contract) materials will tell you if prices can change and under what conditions."
While some buyers of 909 Kapiolani units might decide not to purchase because of the price increase, demand for the project is still strong, Fukunaga said.
The project is Posec Hawaii's first, though the company has tried twice before to develop the 1.3-acre Kakaako site, which parent company Posco bought for about $12.5 million in the mid-1990s.
Posec first attempted to develop a luxury project called the Emerald Tower, which was scrapped after Hawaii's real estate market collapsed. The company tried again in 1998, but financial instability in South Korea forced the developer to suspend plans for a senior-living high-rise called the Renaissance.