Acquisitions help boost
BancWest's earnings 30%
First Hawaiian Bank's parent increased its second-quarter net income 30 percent and boosted its total assets to more than $52 billion after the company bought two mainland banks last year.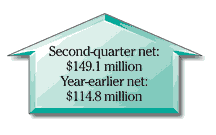 BancWest Corp., which also owns San Francisco-based Bank of the West, said yesterday it had a $149.1 million profit in the quarter compared with $114.8 million a year earlier. Assets grew 30.4 percent to $52.5 billion, loans and leases gained 24.9 percent to $34 billion and deposits grew 23.8 percent to $34.6 billion.
"Continued (internal) growth, plus the impact of last year's acquisitions of Community First Bank and Union Safe Deposit Bank, produced yet another earnings record for BancWest," said Don McGrath, president and chief executive of BancWest. "Both Bank of the West and First Hawaiian Bank continue to post double-digit percentage growth."
The company is on the verge of expanding again when it closes on its purchase of Omaha, Neb.-based Commercial Federal Corp. The $1.36 billion transaction is to be finalized in the fourth quarter once it is approved by Commercial Federal shareholders and federal and state regulators.
"This acquisition will solidify BancWest's position in the Midwest and add significant market share in several major metropolitan areas including Denver, Omaha and Des Moines (Iowa)," McGrath said.
Commercial Federal operates 198 branches in seven states in the Midwest, Colorado and Arizona and had total assets of $10.4 billion as of March 31. Commercial Federal will become part of Bank of the West and give BancWest a total of 737 branches in 20 states with approximately $64 billion in assets.
BancWest, the third-largest bank west of the Mississippi River and a subsidiary of French banking giant BNP Paribas SA, had after-tax restructuring expenses of $1.6 million in the second quarter of 2004 and none last quarter. Excluding the expenses, net income would have increased 28.2 percent in the most recent period over the same time a year ago.
The bank's credit quality improved last quarter, but its net interest margin, which reflects the difference of what the bank pays depositors and what it brings in from loans, slipped.