---
[ FAST FACTS HAWAII ]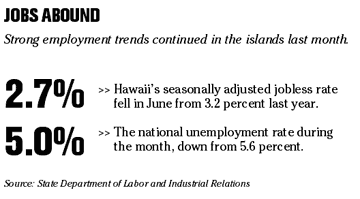 ---
BACK TO TOP


|


ROYAL HAWAIIAN SHOPPING
CENTER TO GET NEW TENANTS
---
Workers' comp costs beat U.S. average
Hawaii's total workers' compensation payments remained higher than the rest of the country in 2003, though local costs increased more slowly than the national average, according to a report yesterday from the National Academy of Social Insurance.
State employers paid $1.57 per $100 of payroll for workers' comp medical claims, wage replacement and disability costs. Hawaii employers paid seven cents more per $100 for medical costs than the national average and 34 cents more per $100 for wage replacement and disability costs.
Nationally, employers paid $1.16 per $100 of payroll for workers' comp costs in 2003, the latest year information was available.
Hawaii's workers' comp payments rose 2.6 percent to $274.9 million in 2003 from 2002 while national workers' comp payments rose 3.2 percent to $54.9 billion.
Honolulu office vacancy declines
Vacancy in Oahu office space dropped below 10 percent in the first half of this year, while asking full-service gross rent rose 3.1 percent, according to a report yesterday from commercial real estate firm
Colliers Monroe Friedlander
.
The last time the Oahu vacancy rate fell below 10 percent was 1993, before several new offices were built downtown, driving vacancy up to 14 percent by 1996.
Alternative insurer enters market
San Diego-based insurer American Specialty Health has started offering supplemental coverage of alternative health insurance in Hawaii.
Employees covered by ASH can access a statewide network of contracted health providers and a national network of more than 22,000 doctors, acupuncturists, chiropractors and others. The company said its insurance subsidiary is licensed in 43 states and the District of Columbia.
United Air machinists ratify pact
CHICAGO »
United Airlines
concluded a contentious effort yesterday to wring out more labor costs in a bid to leave bankruptcy when its machinists union announced ratification of a new contract.
The agreement with the International Association of Machinists and Aerospace Workers cuts pay by up to 5.5 percent and trims some benefits, which should save United about $175 million annually.
With the ratification, each of United's six unions has agreed to new contracts, resulting in $700 million in annual labor savings. It clears the way for United to file a reorganization plan with the bankruptcy court, which it expects to do around Aug. 1.
Taking dead people off lists to cost $1
NEW YORK » The nation's largest direct marketing group set up a registry yesterday to remove dead people from its telemarketing, e-mail and direct mail lists -- for $1.
The Direct Marketing Association, which has more than 5,200 members in the United States and 44 other countries, said its Deceased Do-Not-Contact list was designed to help families dealing with the loss of a loved one.
The organization said the $1 fee was for credit card verification, and was designed to prevent fraud.
"We're concerned people will abuse the list, putting the names of friends on it, that kind of thing," said Pat Kachura, the group's senior vice president for ethics and consumer affairs. "So we're very concerned that those who are on the list are those who should be on the list."
Hawaiian Airlines grabs finance award
Hawaiian Airlines
' management won the top honor for finance in the air industry at the Airline Strategy Awards for its successful restructuring after more than two years in bankruptcy. Other top category winners included
Southwest
for marketing and
Ryanair
for operations.
Maui fair seeking booth applications
WAILUKU » Officials organizing the 83rd Maui County Fair on Sept. 29 to Oct. 2 are accepting applications for booths, including business and nonprofit group exhibits.
An estimated 102,000 people attended the event last year, said fair director Mike Victorino. For more information, call (808) 242-2721 or (808) 281-9053.
HAWAII INC.
---
New Jobs
»
Prudential Advantage Realty
has hired
Dan Ihara
as a residential sales professional. He will be responsible for providing quality service to clients. He previously served as a
Servco Pacific Inc.
assistant vice president.
» American Savings Bank has hired Randy Lu as commercial banking department vice president. He will be responsible for business development, sales, customer service and portfolio management. He has over 10 years banking experience in retail sales, branch management and business banking.
» KMH LLP has appointed Ross Murakami managing partner. He will be responsible for overseeing all of the company's operations. He is one of the company's founding partners.
Promotions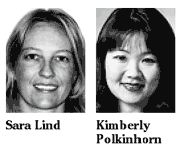 »
MW Group Ltd.
has promoted
Sara Lind
to administrative manager from accountant. She will be responsible for assisting
Steve Metter
and
Mike Woods
in the company day-to-day operations and overseeing all human resources programs. She previously worked in accounting at the company's real estate firm.
» Group 70 International has promoted Kimberly Polkinhorn to new associate. She will join 17 existing associates responsible for helping to manage the firm.
» Aloha Airlines has expanded John J. Votsis' responsibilities. He currently serves as sales vice president. He will additionally be responsible for cargo sales.