---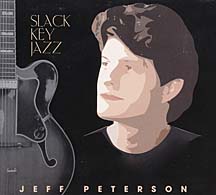 Slack Key Jazz
Jeff Peterson
(Peterson Production PP001)
Jeff Peterson has been introducing examples of "slack key jazz" in his recent concerts.
The album now presents the idea in recorded form and reaffirms its validity. It's also a step forward for Peterson careerwise --- he self-produced it as the first release on his own record label.
Peterson's solo acoustic arrangements of "Take Five" and "The Girl From Ipanema" are among the best examples of where he's coming from.
The basic melodies are so familiar that it's easy to appreciate his fresh interpretation of them. Similar arrangements of other jazz and pop standards also display his imagination in approaching familiar mainstream favorites as slack key material.
For all the innovation here, Peterson isn't turning away from his roots. Cultural purists will find several Hawaiian standards that link "Slack Key Jazz" to his previous albums.
www.jeffpetersonguitar.com
---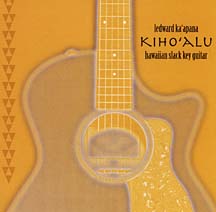 "Kiho'alu"
Ledward Kaapana
(Rhythm & Roots IT-0307)
Any new recording by Led Kaapana is a welcome addition to his discography. Even when Kaapana records a song he's done before, there will likely be something different in the new version.
Hard-core slack key scholars can listen for new variations or techniques here. All others will enjoy the soothing beauty of his playing.
The selections include Hawaiian standards, pop and country hits, and several originals. Kaapana switches from guitar to 'ukulele for smooth renditions of "Killing Me Softly" and "Love Is Blue." The two change-of-pace songs fit in nicely too.
Producer Milton Lau does Kaapana and the public a favor by keeping studio add-ons minimal. He and engineer Chris Lau add bass and keyboards but don't detract from Kaapana's artistry.
Information on Kaapana's guitar tunings complete this fine showcase.
rhythmandrootsrecords@yahoo.com
---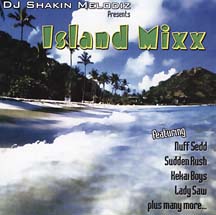 "Island Mixx"
DJ Shakin Melodiz
(Vizzun VR-1003)
A "mixtape" that's put out for commercial sale with no acknowledgment of the artists, song writers and producers whose artistic properties are being used is like a toilet stall in a public restroom that has no door and no toilet paper. It serves the intended purpose but lacks important components.
Bob Marley, the Police, Doc Pomus, Mort Shuman, the Neptunes and Michael W. Perry are among those whose work is used by DJ Shakin Melodiz without the credit. The omission suggests that he's so new to the business that he doesn't know any better, but the quality of his work shows he's no newbie.
Maybe the record label denied him the space he needed to properly document his material.
Melodiz opens big with a bit of "Every Breath You Take" and segues from there through an engaging radio-ready potpourri of reggae, Jawaiian, hip hop and Bu La'ia. Nuff Said and the Kekai Boyz are represented with new versions of their hits, "Cherry Bomb" and "One Night Stand," respectively. There's also a quick remix of Kelis' "Milkshake" and the routine work of several generic Jamaican-impersonators. "Da Marley Mega Mixx" incorporates several authentic reggae classics in fine style as well.
www.vizzunrecords.com

John Berger, who has covered the local entertainment scene since 1972, writes reviews of recordings produced by Hawaii artists. See the Star-Bulletin's Today section on Fridays for the latest reviews. Contact John Berger at
jberger@starbulletin.com
.