---
[ FAST FACTS HAWAII ]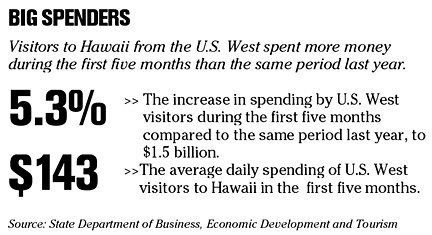 ---
BACK TO TOP


|


PLAYING BINGO FOR SENIORS
---
---
HAWAII
Hawaiian passengers increase 1.9% in June Hawaiian Airlines posted an uptick in passenger traffic in June as 501,471 people flew on the airline, a 1.9 percent rise from 492,016 a year earlier.
The increase left the airline with a 0.9 gain in passenger volume for the second quarter from the year-ago quarter but a 0.7 percent six-month decline from the similar period in 2004.
Its revenue passenger miles, which represents total miles flown times the number of passengers ,gained 4.8 percent last month to 569.2 million from 543.2 million a year earlier.
Available seat miles -- one seat available for one mile -- gained 7.8 percent to 659.8 million from 612.3 million.
The company's load factor, which is the percentage of seating capacity utilized, was 86.3 percent in June, a drop of 2.4 percentage points from 88.7 percent in June 2004. For the first six months, Hawaiian's load factor was 85.1 percent, down from 84.2 percent during the first six months of 2004.
Aloha named top domestic airline
Aloha Airlines
has been named one of the top 10 U.S. domestic airlines by readers of Travel+Leisure magazine. The company has made the Best Domestic Airline list in Travel+Leisure magazine's "World's Best" survey all 10 years the survey has been conducted.
Travel+Leisure magazine's 2005 rankings are comprised of the results of surveys of subscribers conducted by the magazine and the independent firm Harris Interactive. The results are indexed averages of readers' responses in the categories of cabin comfort, food, in-flight service, customer service and value, and the winners of the awards will be featured in the August issue of Travel+Leisure.
"We are honored to be consistently ranked among the nation's best domestic airlines," said David Banmiller, president and chief executive of Aloha.
Cyanotech stock rated 'neutral'
Dutton Associates
, one of the largest independent investment research firms in the United States, has issued a report on
Cyanotech Corp.
maintaining a "neutral" rating on the stock. The El Dorado Hills, Calif.-based firm also kept its $1.25 price target on the shares.
Cyanotech, which produces nutritional supplements out of microalgae grown on the Big Island, closed yesterday at $1.14.
NATION
Wal-Mart may ante up in suit Wal-Mart Stores Inc. took no action on internal warnings seven years ago that it was falling short in promoting women, documents in a federal sex-discrimination lawsuit show.
The world's largest retailer didn't carry out the 1998 recommendations of a diversity task force and disbanded the panel, according to company memos, reports and depositions filed in the case. Two years later, Wal-Mart had a reduced percentage of female managers.
The chain of events may lead the company to settle the lawsuit out of court to avoid paying damages as the result of a trial, say employment lawyers not involved in the case. Losing at a trial may cost the company as much as $10 billion for back pay, punitive damages and raises, said California employment lawyer Morris Baller.
Port of Long Beach shipments increased 17 percent in June
Container shipments through the Port of Long Beach, the second-busiest U.S. seaport behind Los Angeles, rose 17 percent in June because of higher U.S. demand for Asian imports, port officials said.
The total number of 20-foot containers going in and out of the port rose to 576,604 from 494,098 a year earlier based on preliminary figures, port spokesman Art Wong said yesterday. Long Beach began accommodating some of the world's largest ships about a year ago, and the port's growth rate may begin to narrow by August, he said.
The Long Beach and Los Angeles ports are regarded as leading gateways of trade between the United States and Asia and would be the world's third-busiest port complex, if combined, behind Hong Kong and Singapore. Long Beach's number of container shipments may match Los Angeles by next year, Wong said.
The number of loaded inbound containers in June was 294,252, almost three times the 101,381 outbound containers, port officials said.
Golf Galaxy hopes to raise up to $39M in IPO
WASHINGTON »
Golf Galaxy Inc.
, which runs a chain of golf stores, announced yesterday the terms for an initial public offering worth as much as $39 million. The IPO consists of 3 million shares, with an estimated price range of $11 to $13 per share, the retailer said in a regulatory filing.
According to the Securities and Exchange Commission filing, the Eden Prairie, Minn., company is offering 3 million shares. Shareholders are offering an additional 333,000 shares.
In a May filing, Golf Galaxy said it planned to sell up to $46 million of common stock in an IPO but gave no details about the terms.
Managers of the offering received an option to sell up to an additional 500,000 shares to meet demand.
Proceeds from the offering will be used to open new stores and for general corporate purposes, including potential acquisitions, the filing said. The company also said it will use $19.5 million of the proceeds to pay dividends to preferred stockholders. The shares are expected to list on the Nasdaq Stock Market under the symbol "GGXY."
Upper Deck to take over sport card rival's name
MOUNT HOLLY, N.J. » Sports card company
Upper Deck
has won an auction to take over rival
Fleer
's name and its toy car business.
Upper Deck, of Carlsbad, Calif., bid $6.1 million in Thursday's auction for the intellectual property and die-cast toy business of debt-ridden Fleer. Superior Court Judge Ronald Bookbinder approved the sale yesterday.
Saddled with nearly $40 million in debt, Fleer went out of business in May. Lawyers for the Mount Laurel-based company said that the rising costs associated with putting sports memorabilia into packs of cards, coupled with dwindling interest in the hobby, led to the company's demise.
Upper Deck, like most of the main players in the sports cards business, is privately held.
Upper Deck burst onto the scene in 1989, when the hobby was at its hottest, and introduced $1 packs of cards on high-quality stock with top-notch photographs.
In 1995, as baseball and baseball card collecting were smarting from a strike, the company started putting premium goodies, such as swatches of uniforms, into cards. Card-watchers say the move revolutionized collecting.