SUNDAY TRAVEL
---
---
Cultural blend
in Macau
A trading route's past contributes
an eclectic blend of cultural tastes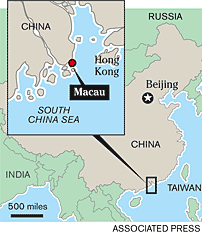 The essence of Macau, an oddly compelling former Portuguese colony on China's southern coast, is engraved in the stone of its 400-year-old Sao Paulo Cathedral.
Symbols of the Virgin Mary and the Crucifixion mix with Chinese dragons and Japanese chrysanthemums. Chinese characters invoke snippets of Holy Scripture.
Macau is the oldest continuous European settlement in Asia, and its longevity can be traced to this willingness to fuse East and West in an unlikely harmony.
It's a fusion that extends to its architecture, language -- even its people -- and which continues today, six years after it reverted to Chinese control.
Macau has gotten a bad rap in decades past.
If you go ...
Location: On China's southern coast, about an hour by high-speed ferry from Hong Kong

History: Founded by Portugal in 1556. Became a key link in world trade routes, but its importance soon waned. Returned to Chinese control in 1999 with an autonomous status similar to Hong Kong.

Area: 6.2 square miles, about the size of Kailua, consisting mainly of two islands linked by road bridges to the main peninsular area

Visas: None required for Americans

Population: 450,000; 95 percent ethnic Chinese, 3 percent Macanese (a mixture of Portuguese and Chinese)

Currency: Pataca (US$1 = 8 patacas)

Getting there: Macau has an international airport, but most visitors arrive via high-speed ferry from Hong Kong (starting at about $35 round trip).
Founded in 1556, it was once a regional military and trading power but soon went into a 400-year decline that reflected Portugal's own fall from world power to third-rate nation.
But its return to China has stirred new life. American-owned casinos are popping up, bringing Vegas-style glitz to a moribund gaming industry. The economy grew an astounding 25 percent last year.
Yet the tiny enclave's unique cultural melange persists, and nowhere is it more evident to the visitor than in its restaurants.
Dining is the national pastime here, and Macau's eccentric menus contain an affordable blend of Mediterranean, Asian and even African and Indian (brought via Portugal's trade routes) influences that makes this tiny enclave a memorable side trip for anyone visiting its larger and more illustrious neighbor, Hong Kong.
Most menus will feature African Chicken, Macau's signature dish, baked with chilies and peppers, the meat invariably moist and tender.
Portugal's colonial link to Brazil is evident in feijoada, a stew of beans, pork, potatoes, cabbage and spicy sausages, while Portugal's former spice-dealing Indian colony of Goa is represented by spicy prawns.
And if you like Portuguese sausage, you've come to the right place. They've got the real thing here, piquant and sweetly fatty, though malasadas don't seem to have followed the trade routes here, alas.
If you have time for only one meal in Macau, make it Restaurante Fernando, better known locally as Fernando's.
This laid-back eatery is housed in a spacious red-brick structure on a beach near Macau's southern tip that resembles Waimanalo, the wind sighing through ironwood trees.
The menu is only in Portuguese and Chinese, but the wait staff will help you decide, probably suggesting the delicious grilled ribs or spicy fried prawns, served Chinese style and all washed down with a pitcher of cold sangria.
If eating is Macau's key draw, a close second is walking off the rich meals with a tour of its colonial sites, many dating to the mid-1500s.
---
---

Macau is barely the size of Kailua, consisting of two hilly islands and a peninsula that clings to the Chinese mainland.
Yet it is packed with historical sites and baroque architecture, the most important of which can be visited in roughly the time it takes to digest a meal.
At the heart of Macau's cobblestoned central district stands the cathedral of Sao Paulo, built on a hilltop from 1602-27 by Japanese Christians exiled by their xenophobic rulers.
All that remains today is the four-tiered facade, which has been extensively restored and tells the story of the Christ child and his Crucifixion carved in stone.
Just a stone's thrown away is the Monte Fort, built around the same time and with commanding views of Macau, the sea and the Chinese mainland.
The fort's cannons were fired only once, during an attempted Dutch takeover of Macau in 1622. The cannon shot struck an attacking Dutch ship's munitions store, blowing the vessel out of the water. The Dutch left Macau alone after that.
Today it is home to the Macau Museum, a collection of rare artifacts dating from the colony's founding.
---
---

Numerous other sites are sprinkled throughout peninsular Macau, linked by the winding network of narrow, European-style alleyways that courses past Chinese curio shops and Oriental furniture merchants. Modern-day names like McDonald's and Hang Ten are there, too, of course, located incongruously within 200-year-old colonial structures, with their arched doorways.
Macau's night life is deeply intertwined with its casinos, though its gaming scene could hardly have been mistaken for the family-friendly environment of Las Vegas.
A longtime monopoly on gambling stifled the industry's development, rendering Macau's casinos dank and smoky chambers where you needed sharp elbows to get through the throngs of desperate gamblers crowded around tables.
Macau gained a further black eye when a triad war erupted in the 1990s as gangs fought over the dwindling gaming revenues.
But times are changing under China. It snuffed out the triad war and broke up the gambling monopoly, paving the way for Vegas operators, who are placing big bets on Macau's future.
---
---

The Sands Hotel and Casino opened last year, featuring just about everything you would expect on the Strip: bright, clean gaming rooms the size of football fields, cheesy lounge acts at casino bars, and a 24-hour "Las Vegas Buffet."
"Yeah, its exactly like Vegas -- the house always wins," said Geert Korschneider, a Californian trying his luck recently, and not so successfully, at the blackjack tables.
The Vegas invasion is only beginning.
The people behind the Sands have plans for another casino-resort modeled after Las Vegas's Venetian Resort Hotel and Casino, complete with crooning Italian gondoliers ferrying customers through faux canals. Vegas gaming mogul Steve Wynn also has broken ground on a $1 billion megaresort on one of Macau's two main islands.
Even Stanley Ho, the longtime holder of Macau's gaming monopoly, has sketched grand plans to respond to the new competition with glittering new properties, all catering to a new moneyed class of Chinese risk-takers.
The risk for Macau is that the transformation, perhaps the most rapid in its history, will endanger its odd and unique nature.
But Macau has weathered change before: the Portuguese colonial decline, China's periodic convulsions, Hong Kong's rise.
"We're not worried," said restaurateur Abelindo Wong. "Macau will still be here another 500 years from now."
---
---