---
[ FAST FACTS HAWAII ]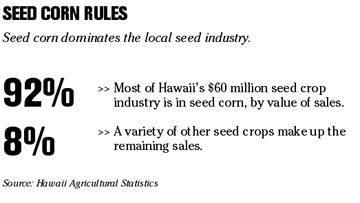 ---
BACK TO TOP


|


REGIS AND KELLY TOUT ISLE-BOUND SHIP
---
Shelter reaches deal over foreclosure suit
First Hawaiian Bank
has filed a foreclosure complaint against the Big Island's only emergency homeless shelter, but is planning to withdraw the suit after reaching an agreement yesterday to extend by a year the shelter's deadline for repaying $133,000 in loans.
The East Hawaii Coalition for the Homeless had taken out a $100,000 loan in April 2001 that matured on Feb. 28 this year and a second loan for $25,000 in September 2001 that matured on Feb. 1 this year. The coalition has been current on its interest payments, executive director Steve Bader said.
First Hawaiian spokesman Gerry Keir, citing customer confidentiality, said he couldn't comment on why the bank filed the complaint. However, he said the bank has been a strong supporter of the coalition and acquired a $560,000 grant from the Federal Home Loan Bank of Seattle in 2001 to aid the coalition's purchase of the Hilo Hotel. The coalition has used the mixed-used hotel to rent space to commercial tenants, and plans to use it to house homeless people.
Bader, who called the foreclosure filing unnecessary, said the coalition has a $600,000 annual operating budget and that most of a 28 percent pay cut it absorbed from the state in the last two years will be restored.
The coalition puts about 600 people a year in emergency shelters and transitional housing and provides supplies and services for about double that number. More than 2,500 people annually also get services, including 140,000 meal packages, in Puna and other areas of the Big Island.
NATION
Toys 'R' Us buyout faces key vote
NEW YORK »
Toys "R" Us Inc.
shareholders are voting on a $6.6 billion buyout that would end the company's 27-year run as a public company.
During that period, Toys "R" Us became the nation's largest toy seller, only to lose market share in recent years to the big discount retailers and cede the top spot to Wal-Mart Stores Inc. If approved today by a majority of shareholders, the Wayne N.J.-based company would be sold to a private consortium at the end of next month and stockholders would get $26.75 a share.
The consortium is composed of two private equity firms, Kohlberg Kravis Roberts & Co. and Bain Capital Inc., and a real estate developer, Vornado Realty Trust.
More companies ditching pensions
New York » Big employers sharply accelerated freezes and terminations of pension plans last year, steering away from the increasing expense and uncertainty of paying for workers' retirement, a new study says.
About 11 percent of the big companies offering traditional pensions terminated their plans or froze accrual of new benefits to workers, according to a study by consulting firm Watson Wyatt Worldwide, released yesterday. That is up from 2003, when 7 percent of the nation's 1,000 largest companies capped pension plans.
---
BACK TO TOP
|
HAWAII INC.
---
New Jobs
»
Charles Pankow Builders Ltd.
has appointed
Kyle Pang
the Honolulu office project sponsor. He will be responsible for overseeing all aspects of construction projects. He previously served as client services director at Kiewit.
» The Westin Maui Resort & Spa has appointed three employees to key positions. Bettina Hughes has been promoted to group sales director. She will be responsible for overseeing the sales team and the group department. Tina Canderle has been promoted to catering/conference services director. She will be responsible for the day-to-day functioning of the catering team and all group functions at the resort. Krista Nagao has been appointed group sales manager. She will be responsible for booking group business from the Midwest and Southern California.
» Hawaiian Airlines has appointed David Osborne senior vice president -- chief information officer. He will be responsible for technology planning, resource management, service and support and oversight of all projects undertaken by the company's information technology department. He previously served as Deutsche Bank's global markets division's managing director/CIO.
» Hilo Hattie has hired Carol Suckow as Maui sales director. She will be responsible for promoting the store, creating and developing sales and marketing programs and coordinating marketing programs. She previously worked for Wolfgang Puck's Maui Spago Restaurant.
» Team Vision has hired Ali Won as account supervisor. She will be responsible for managing the marketing and advertising for several accounts. She previously worked for ADWorks.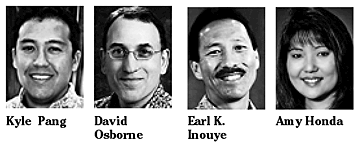 Promotions
»
First Hawaiian Bank
has promoted
Earl K. Inouye
to vice president and controller. He previously served as Hawaii Pacific Health's and
Liberty Bank
's controller. The bank also has promoted
Victoria M. Hasty
to vice president and team leader of its Hawaii Region Office. She joined in 2000 as an assistant vice president.
Kenn N. Kojima
has been hired as vice president and trust real estate manager. He formerly worked for the state of California's Department of General Services.
» Bank of Hawaii has promoted four employees to vice president from assistant vice president. Amy Honda will be responsible for managing a portfolio of existing clients and developing new commercial banking relationships for the Hawaii Island Commercial Banking Center. Lance J. Iwasaki will continue to serve as business baking manager in charge of daily operations for the Leeward Business Banking Center. Cheryl M. Kim was promoted to the Kailua Branch vice president. She will be responsible for executing corporate initiatives and delivering retail and business products and services to customers. Ronald E. Mui works in the treasury division. He is responsible for bank-owned life insurance investments, pricing commercial lending transactions and managing investment policy documentation.