Whirlwind trip ends in
visit with Hawaii troops
in Korea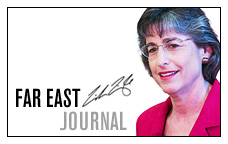 Governor Linda Lingle is sending the Star-Bulletin daily installments of her journal as she travels through China and South Korea.

The 10-day trip is intended to expand Hawaii's business, educational and cultural opportunities.
Jeju Island, Korea
» Day 10: This morning we departed Gimpo Airport just outside of Seoul for a 50-minute flight to Jeju Island off the southern tip of Korea. After spending the past nine days in crowded, bustling cities in China and Korea, it was nice to be on an island, which reminded all of us of home.
We traveled about an hour to the tourist resort area of Joongmoon, where we were given a tour of the Jeju International Convention Center by its president, Kim Jung Hee. He shared that this modern facility hosted 40 world conferences and major meetings last year. The convention center overlooks the coast, providing stunning views of the beach and resort hotels that dot the shoreline.
The economy of Jeju is much like Hawaii's, especially our neighbor islands. Tourism and agriculture are the key industries.
Last year, Jeju welcomed nearly 5 million visitors. Jeju has been successful in attracting major conferences and events, including the 2004 Pacific Asia Travel Association conference and the 2002 World Cup. Jeju, which has designated itself as "The Island of Peace," also has hosted several international peace forums.
I had an interesting meeting with Jeju Governor Tae-Hwan Kim, who was familiar with Hawaii, having visited our state in 1999. Having both served as mayors before we became governors, we had much in common. We discussed similarities between Hawaii and Jeju, including our tourism industries, agriculture sectors, education systems and environmental protection. We even compared the number of golf courses on our islands (Jeju currently has 40). As has been the case at many of our meetings in Korea, Michele Wie became a topic of conversation, as Hawaii's most famous golfer and Korean American.
Governor Kim and I also discussed Jeju's tax structure and whether there are tax incentive opportunities that Hawaii businesses could take advantage of. I was particularly interested in exploring additional opportunities for Hawaii companies in the area of tourism services, resort development and training.
Jeju is focused on enhancing its tourism infrastructure to accommodate even more visitors. The island already boasts outstanding hotel resort facilities, some of which were designed by Hawaii architects.The Shilla Hotel, where our meetings were held, as well as the Hyatt Jeju next door, were designed by Hawaii architecture firm Wimberly Allison Tong and Goo.
Following a luncheon the governor of Jeju hosted for our Hawaii delegation, Kim and I participated in a signing ceremony to reaffirm a Joint Statement on Strengthening the Relationship Between the State of Hawaii and the Province of Jeju. Originally signed in 1986, this sister-state/province agreement has been a significant way to establish partnerships in economic and business development, educational and cultural exchanges, tourism development and environmental partnerships.
I shared with our Jeju hosts that reaffirming our partnership is significant because of the strong contributions of our Korean community at home, and the recent celebration of the centennial of Korean immigration to Hawaii in 2003. It was very emotional for those in attendance because of the strong bonds of friendship and cooperation built over the years.
Next year Jeju and Hawaii will celebrate the 20th anniversary of our sister-state/province relationship. I invited Governor Kim to join me in Hawaii to mark this milestone. I hope he will be able to visit our state so that the people of Hawaii can extend the kind of hospitality Jeju showed to our delegation.
Just as we were getting to know our island counterparts in Jeju, it was time to return to Seoul in the late afternoon. Tomorrow we leave early for a military ohana day in the north before we depart for home in the evening.
Lingle's asia trip by the numbers
Here's a quick summary of Gov. Lingle's 2005 China-Korea mission:

11 days (including one travel day)

6 cities (Shanghai, Beijing, Guangzhou, Zhongshan, Seoul, Jeju)

8 planes

190 delegates/performers in China; 50 in Korea

4 memorandums of agreement/understanding signed

2 sister-state/province agreements reaffirmed

3 news conferences

3 Aloha concerts

Plus: Meetings with 2 governors, 3 mayors, 1 foreign minister, 1 U.S. ambassador, 2 U.S. consul generals, 1 vice premier of all the Chinese consul generals, and several local governmental ministers/officials
Seoul and traveling north in Korea » Day 11: We are all packed and looking forward to returning home. But before we leave Asia, we have an exciting and meaningful day in front of us.
Today is Military Ohana Day in Korea. Coordinated by State Adjutant General Robert Lee, who has been an integral part of this mission, our delegation will meet with troops deployed in the Republic of Korea who have ties to Hawaii.
Our first stop will be to visit troops stationed at the U.S. Army garrison in Youngson. For security purposes I cannot discuss exact locations for the rest of our day.
As I did when I visited Japan in 2003 and Iraq in 2004, I will meet with the troops who are stationed overseas to bring a little aloha from home. While I'm sure they will be excited to see folks from Hawaii, and will enjoy the local snacks, candies and Hawaiian CDs we will bring them, I think the day we spend with our troops will mean even more for our delegation. I know we are all eager to show our appreciation for the commitment and sacrifices these men and women, and their families back home, make every day for our state and our nation.
As we count down to our last few hours in Asia, I keep thinking back to the 10 goals we had for this ambitious mission:
1.
Reinforce our "Open for Business" administration initiatives, while building long-term relationships for the state of Hawaii.
2. Open doors for Hawaii businesses in China and Korea, and encourage investments in our state.
3. Enhance current tourism relationships while building new opportunities to expand Asian visitor markets.
4. Create and expand Hawaii technology through a Memorandum of Understanding to establish the state's first high-tech office outside of Hawaii.
5. Promote Hawaii's unique culture and arts, and work with Asian partners to preserve local cultures.
6. Expand Hawaii's Asia-Pacific role in higher education and research by forging new partnerships and cooperative agreements involving the University of Hawaii system and Brigham Young University-Hawaii.
7. Promote Hawaii products.
8. Engage and discuss mutual homeland security issues.
9. Visit with military men and women who have Hawaii ties.
10. Visit with national leaders to enhance the role of our state in the Asia-Pacific region.
While the full results of our mission will emerge over the long term, our delegation can sleep well on the plane knowing we succeeded in working hard to ensure our 10 goals were achieved and, in my mind, exceeded. The people of Hawaii can feel a sense of pride knowing how positively our state and our people are viewed in China and Korea. The newspapers and television stations in both countries carried images and stories of our events.
I look forward to returning to Hawaii and putting the ideas generated throughout our trip into actions that will ultimately benefit Hawaii businesses, our economy and our unique culture.
Mahalo for the chance to share my daily observations with the people of Hawaii. It has been a fascinating journey, and I hope you enjoyed reading about it as much as I enjoyed writing this daily diary.