SPECIAL
---
Lingle sees
opportunity
in Korea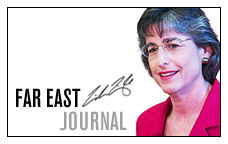 Governor Linda Lingle is sending the Star-Bulletin daily installments of her journal as she travels through China and South Korea.

The 10-day trip is intended to expand Hawaii's business, educational and cultural opportunities.
GUANGZHOU, China and SEOUL, Korea » Day 8: As we left this morning for the three-hour flight from Guangzhou to Seoul, my thoughts kept returning to the wonderful evening we spent last night at Sun Yat Sen Memorial Hall. I was so proud of our Hawaii entertainers who represented our state brilliantly during the performance, which showcased our culture and aloha spirit.
The show was in honor of the reaffirmation of our 20-year sister-state/province relationship between Guangdong Province and the state of Hawaii. Gov. Huang Hua Hua of Guangzhou opened the show with televised welcoming remarks. I followed with my personal feelings of the strong bonds of friendship that have been forged during the past two decades. The audience was moved by my comment that more than 80 percent of the Chinese in Hawaii trace their ancestry back to Guangdong province.
The nearly two-hour show was a melding of China and Hawaii through dance and music. It was very impressive and the audience was caught up in the genuine warmth shared by all the entertainers. Amy Hanaialii Gilliom, the Kaala Boys and the Polynesian Cultural Center dancers and musicians were at their best in musically communicating the culture and traditions of our state. The Chinese entertainers were equally powerful in their performance. They even performed a hula, side-by-side with our entertainers from home.
This melding of cultures was illustrated earlier in the day when the 2005 Narcissus Queen Court, led by Darah Dung, gave a hula performance at an outstanding traditional Chinese banquet. Our Chinese hosts went all out, kicking off the luncheon with firecrackers and dramatic fanfare that demonstrated the pride in their customs and culture. I am glad we were able to meet up with the Hawaii Chinese Chamber of Commerce delegation that was on its annual Narcissus Goodwill Tour through Asia. I appreciate the support of the chamber, led by its president, Ming Chen.
My final thought is about the "beginnings and continuations" of relationships. This came into clear focus when I had the honor to meet former Guangdong Province Gov. Liang Lin Guang prior to the show. Gov. Liang signed the original sister-state/province relationship in 1985 with then-Gov. George Ariyoshi. I was humbled to be able to carry on its legacy.
Arriving in Seoul midday, our delegation was met by Carmine D'Aloisio, the minister-counselor for commercial affairs at the American Embassy in Korea. He briefed me on the way to our first meeting with the president and chief operating officer of Korean Air, Lee Jong Hee. We had a frank discussion about visa issues for Korean visitors as well as increasing the number of flights to Hawaii. Korean Air currently has four daily flights between Seoul and Honolulu, which are largely responsible for bringing 40,000 Korean visitors a year to our state.
As part of our effort to expand the Korean visitor market, Hawaii Tourism Korea, which is responsible for marketing Hawaii to Korean visitors, hosted an Aloha Festival Dinner tonight for Korean and Hawaii tourism leaders.
I attended a second dinner for Korean business executives and a delegation from Hawaii that included members of the Hawaii Korean Chamber of Commerce, headed by President Rex Kim. I was proud to share with the audience the strong ties between Hawaii and Korea, and the many contributions of Hawaii's Korean community to our state. The audience was particularly pleased when I talked about one of our most well-known Korean Americans, Michelle Wie.
I also highlighted some of the Korean companies that are doing business in Hawaii, such as Savers, which operates out of the Natural Energy Laboratory of Hawaii on the Big Island. The company bottles deep sea water and will be marketing this Hawaii product in some of the largest retail companies in Korea. Another Korean company is Posec Hawaii Inc., a subsidiary of POSCO Engineering & Construction, which recently broke ground for a luxury condominium at 909 Kapiolani Boulevard. A key component of our mission in Korea is to strengthen relationships with these and other Korean companies, and to seek new investment opportunities and partnerships.
Our first day in Korea was very meaningful and beneficial as we renewed old acquaintances and built new relationships on the tourism and business fronts. Our Korea mission is off to a tremendous start.
Tomorrow I will share details about our second day in Seoul, where I will have meetings with the U.S. Charge d'Affaire Mark Minton and Korean Foreign Minister Ban Ki-Moon. I also will have additional opportunities to meet with Hawaii and Korean business executives who are interested in investing in each other's markets.