SPECIAL
---
---
Beijing gives
Olympic effort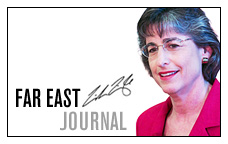 Governor Linda Lingle is sending the Star-Bulletin daily installments of her journal as she travels through China and South Korea.

The 10-day trip is intended to expand Hawaii's business, educational and cultural opportunities.
Beijing
» Day 5: Our first full day in Beijing is proving why this capital city is leading all of China on a fast track to full modernization.
My day began where last night's discussions with leaders of the China National Tourism Administration left off -- on the topic of tourism between China and Hawaii. It is interesting that yesterday I visited the Great Wall of China, which was built to keep people out, while today China through the CNTA welcomes "outsiders" and aims to double the 43 million visitors a year to 86 million over the next 10 years.
In a meeting with U.S. Ambassador Clark Randt, the ambassador shared his thoughts on the very important matter of easing U.S. visa requirements for Chinese visitors. Ambassador Randt understands how significant the visa issue is to Hawaii's tourism industry, and I appreciate his willingness to listen and to assist our state.
We received a warm welcome by China's Vice Minister of Commerce Madame Ma Xiuhong. She was quite familiar with Hawaii, and said that Hawaii's name recognition in China rates on the same level as some of America's largest cities, including New York, Washington, D.C., and Los Angeles. The vice minister also spoke openly about China's currency valuation, and China's efforts to work out financial conflicts with the rest of the world.
As I spoke with Vice Minister Ma, it struck me that she shares one of my objectives but on a much larger scale -- maintaining economic momentum. She is responsible for ensuring that the economic vitality China enjoys today continues long into the future and that more of China's residents reap the benefits. She is certainly one to watch as China's prominence in the international economy continues to expand.
This theme of economic momentum was repeated in my meeting with Beijing Mayor Wang Qishan. One of Mayor Wang's primary focuses now is preparing Beijing to host the 2008 Olympics, when an estimated 3 million visitors from around the world will converge in the city. The government of Beijing is working around the clock to modernize the infrastructure of the city and outlying districts.
While Beijing is a modern cosmopolitan city, it is a work in progress, and it appears that China is using the 2008 Olympic Games as an opportunity to catch up with the rest of the industrialized world.
The mayor's ambitious objectives show the strong confidence the government and people of Beijing have in their abilities to achieve success once they put their minds to something.
The Olympic Village will be located near the impressive Zhongguancun Science and Technology Park, the largest tech park in China. This 16-by-16-mile facility is home to more than 2.6 million people (more than double the 1.2 million residents in all of Hawaii), 13,000 high-technology companies from around the world, 560,000 technology-based employees, 39 leading national universities and 138 research and development facilities.
Now, add to this list Hawaii. The High Technology Development Corporation, a state agency under the Department of Business, Economic Development and Tourism, today signed a memorandum of agreement with the Zhongguancun International Incubator to form a partnership. This agreement gives the state of Hawaii our first high-technology development office outside of the state.
It strategically positions Hawaii to partner with Chinese and international companies and universities in the areas of information technology, life sciences, astronomy, environmental protection, as well as education and training.
Two other significant agreements signed today both involved Tibet. The first is a partnership between the Integrated Development Group, a consortium of Hawaii architects and developers, and the World Trade Center Association of Hong Kong to develop a resort in Lhasa. Some of the revenue generated by the resort would be used to support a cultural center to showcase traditional Tibetan arts and handicrafts.
The second agreement is between Brigham Young University-Hawaii/Polynesian Cultural Center and the China Association for the Preservation of Tibetan Culture to perpetuate the rich culture and history of Tibet.
It says a lot that Hawaii was selected to pursue these ventures to preserve Tibet's native culture. With Tibet having such prominence on the global stage, firms from New York or London could have undertaken these projects. But it is obvious that Hawaii has a lot to contribute with our commitment to perpetuate our native culture.
Tonight we hosted a gathering to celebrate the recent opening of an official business and tourism office in Beijing. The banquet and concert were held at the Great Hall of the People, where China's legislature and National People's Congress assemble. Amy Hanaiali'i Gilliom performed along with the dancers from the Polynesian Cultural Center. It was a dramatic and powerful moment, hula and Hawaiian music being performed in a building that is such a significant part of China's modern history.
Our stay in Beijing was brief, but productive in strengthening relationships with leaders in the China's capital.
One last observation as I prepare to leave Beijing. The best comparison people make for purposes of giving Americans an idea of the relationship between Shanghai and Beijing is that Shanghai is like New York City and Beijing is like Washington, D.C. One sees itself as the financial and cultural capital, while the other is the seat of government power and prestige.
Tomorrow we head back south to Guangdong province, where we will sign a cooperative agreement between the University of Hawaii and Zhongshan University (Sun Yat Sen University). We will also reaffirm Hawaii's 20-year sister-state/province relationship with Guangdong province, where about 80 percent of the Chinese in Hawaii trace their roots.