---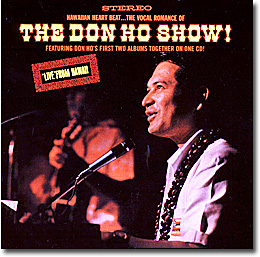 "The Don Ho Show"
"Don Ho -- Again!"
Don Ho & The Aliis
(DBK Works dbk505)
This long-anticipated reissue of the first two albums by Don Ho & The Aliis was finally released by an obscure mainland label that did little to promote it. Ho sells it after his shows at the Waikiki Beachcomber, and it is well worth the trip into Waikiki to get a copy and have him autograph it.
The original albums are among the best "live" recordings ever made in Hawaii. They are mementos of the era when national record labels still considered Hawaiian and hapa-haole music as mainstream rather then "world music." The first album was a perfect debut. The second made Don Ho & The Aliis one of the few Hawaii acts to appear on any of the six major Billboard charts.
Producer Sonny Burke did an excellent job capturing Ho's charisma as vocalist and emcee. He also made it clear that the Aliis -- Al Akana, Rudy Aquino, Benny Chong, Manny Lagodlagod and Joe Mundo --were essential elements of the winning formula.
The reissue benefits from having the original liner notes from both albums, but the added annotation falls far short of doing justice to Ho's remarkable career. It also provides nothing on the Aliis.
---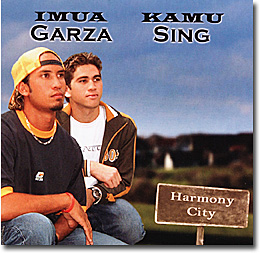 "Harmony City"
Imua Garza and Kamu Sing
(Go Aloha Entertainment IMU 1005)
Garza took a break from the Opihi Pickers to stretch out as a writer and studio musician with this project. He and Sing perform as a smooth vocal duo; Garza writes or co-writes all the songs and does almost all the instrumental tracks. The initial impression is that these guys are blending reggae and urban-pop, but they never sound like Jamaican-impersonators. Garza and Sing are taking the risk to create something fresh within these familiar styles and they're succeeding!
Many of the songs can be described as "inspirational" but none comes across as expository proselytizing. The inspirational theme is introduced with the title song and percolates through others, but Garza and Sing also address romantic relationships in eloquent style. These guys should have at least a local hit or two here!
www.imuaandkamu.com
---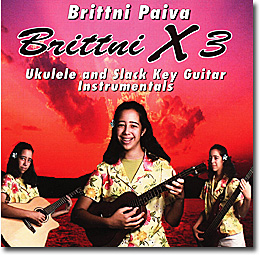 "Brittni X 3"
Brittni Paiva
(Talmidim Productions TPCD0104)
Brittni Paiva's self-produced debut album was released haphazardly last summer, but with endorsements from her mentors, Keoki Kahumoku and Herb Ohta Jr., she was able to get a hearing from enough local radio stations to get air play, connect with the public, and win a Hoku Award.
The album title and cover art introduce Paiva as someone who plays 'ukulele, slack key guitar, and electric bass guitar. Her repertoire is the usual cross-cultural mix favored by many young instrumentalists -- Hawaiian, hapa-haole, pop, world music, etc. "Thunderstorm Slack Key," and a second song she co-wrote with Kahumoku, show that Paiva is a promising composer as well.
www.brittnipaiva.com

John Berger, who has covered the local entertainment scene since 1972, writes reviews of recordings produced by Hawaii artists. See the Star-Bulletin's Today section on Fridays for the latest reviews. Contact John Berger at
jberger@starbulletin.com
.