SPECIAL
---
Chinese drawn
to Hawaii's
'heaven on earth'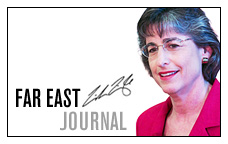 Governor Linda Lingle is sending the Star-Bulletin daily installments of her journal as she travels through China and South Korea.

The 10-day trip is intended to expand Hawaii's business, educational and cultural opportunities.
Shanghai, China »
Day Two started early with a briefing for the Hawaii delegation by American companies already doing business in China. As I addressed the group, it was exciting to see the level of enthusiasm of the businesses, some of which have experience working in China and others seeking to enter this vibrant market. Clearly, there are opportunities here, and our Hawaii businesses are ready to seize them. Eight governors have led or will lead delegations to China this year, but none of their missions is as ambitious as our six-track mission or as large as our 190-member contingent.
The delegates' briefing was followed by a news conference coordinated by Hawaii Tourism Asia. With the number of Chinese visitors to Hawaii increasing by 34 percent last year, the Chinese market holds strong potential to keep our visitor industry moving forward. The hour-long media opportunity raised myriad questions about Hawaii, which the Chinese call "heaven on earth." The reporters from travel, financial and business media posed pointed questions about factors that we are addressing to increase Chinese travel to Hawaii, including Approved Destination Status, visa issues and direct flights to Hawaii from Shanghai and Beijing.
I was taken with the youth of the journalists, and the fact that the majority were women. They were articulate, thoughtful and had really done their homework before meeting with me. And they all spoke English.
This gathering of young women journalists epitomized the changing face of China. They have a unique perspective that can be shared with Hawaii's young women, so I invited them to participate in the second annual International Women's Leadership Conference on September 14-16.
Our tourism track continued with an official Aloha Luncheon for Chinese tourism leaders, which featured performances by the Polynesian Cultural Center. It was clear that this had an impact on the executives in attendance, and I was pleased to speak to the group about the uniqueness of our state.
In just the few short hours I have been in Shanghai, it has lived up to all my expectations based on everything I read and have been told about this modern city and its rich history.
Tomorrow I will share with you details of my meeting between the Hawaii legislators who are part of our delegation and their Chinese counterparts, our dinner with Shanghai business executives, the International Symposium on Asia- Pacific Architecture at Tongji University and the opening of the Shanghai International Film Festival.