Kauai home sale
median at $665,000
Agents struggle to meet a
continued strong demand
The popularity of the neighbor islands with baby boomers and investors kept residential real estate prices rising in May, overcoming traditional graduation month slowdowns.
"We're just starting to heat up," said Dennis Toth, a Realtor associate for Regency Pacific Realty LLC in Princeville, Kauai. "Usually it's slower around this time of year, but summer crowds are starting to appear and they're interested in buying."
Half of the homes sold last month on Kauai went for more than $665,000, 43 percent higher than a year earlier, according to figures released yesterday by Hawaii Information Service. The median price for a condominium slipped 1.6 percent to $375,000.
Baby boomers, preferring higher-end real estate, buoyed Kauai's prices last month and are expected to keep the market afloat, Toth said.
"They have money and they want toys," Toth said, adding that he expects baby boomers will continue to boost prices for another 10 to 15 years.
"It hasn't begun to run its course," he said.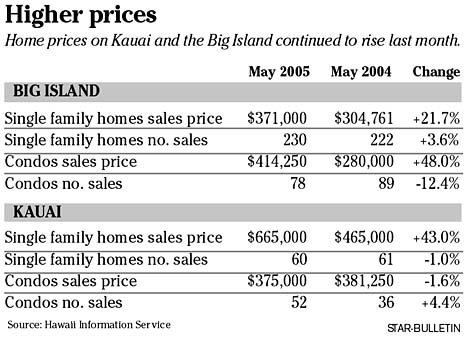 ---
While the number of condo sales rose 44 percent to 52, the number of single-family home sales on Kauai fell to 60 last month, a 1.6 percent decrease, as real estate agents struggled to supply buyers with available properties.
More homes are being built on Kauai, but the projects, which include the Regency Huleia near the Kukui Grove Shopping Center, the redevelopment of Coco Palms and several condominium developments in Lihue, cannot keep up with demand.
"All the new inventory gets sold as soon as it hits the market," Toth said.
A slew of second-home and investment buyers continued to drive condo prices higher than single-family home prices on the Big Island last month, said Gary Davis, broker in charge at Clark Realty in Waimea.
"The greatest percentage of what is being built are condos. That's what's available, so that's what people are buying," Davis said.
More than half the condominiums sold on the Big Island went for more than $414,250, a 48 percent gain from a year earlier, according to Hawaii Information Service. The $371,000 median single-family home price was a 21.7 percent rise from May 2004.
"The market is just crazy," Davis said. "All the Realtors are kind of dragging and their tongues are hanging on the ground because they are tired."
The number of Big Island single-family home sales rose 3.6 percent to 230 in May, while condo sales dropped 12.4 percent to 78.
The high cost of resale property has also increased the amount of land deals taking place.
"Land sales are through the roof," Davis said, especially in places such as Puna or South Point where it is still possible to find lots for less than $50,000.
But anything under $1 million is selling quickly, he said.
"The Big Island has literally been discovered in the last few years," Davis said. "We're getting lots of people who were looking to buy something in Hawaii and found that prices in Maui or Kauai were too expensive."
Big Island buyers generally get more for their money in terms of land or residential space, Davis said.
On Maui the median price of a single-family home topped more than $780,000 in May, a record for the Valley Isle, according to the Realtors Association of Maui.
While Maui condominium prices did not set a record last month, the $365,000 median price was 32 percent higher than the $276,500 median a year earlier.