---
Liquid meth is seized
at Makiki storage site
Law enforcement also discovers
other tools to make "ice"
Illegal hazardous chemicals and equipment to manufacture methamphetamine were discovered yesterday at a public storage facility under the H-1 freeway next to the Lunalilo Street onramp.
Police shut down the onramp about 1 p.m. and evacuated about 20 people from two houses and an apartment building on Matlock Avenue as a precaution against toxic fumes and the possibility of an explosion.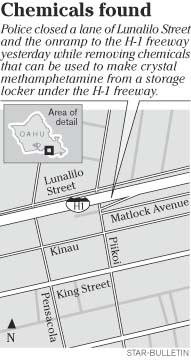 Significant amounts of liquid methamphetamine, acids and other chemicals were found stored inside a storage locker 8 feet high, 8 feet deep and 4 feet wide, police Maj. Kevin Lima said.
Also found were numerous boxes of glassware -- hardware used in manufacturing crystal methamphetamine.
"The potential for an explosion existed," Lima said.
Lima said the chemicals were found in unmarked glass containers.
Mitsuko Matsuzawa arrived home after 5 p.m. to find that her 11-year-old son Billy and his dachshund had been evacuated from their apartment and were under the care of the Red Cross. When she learned about the chemicals, Matsuzawa said, "That's scary."
Sabrina Costa, who was also evacuated, said if the chemicals blew, "I wouldn't be here telling the story."
An investigation by federal, state and local law enforcement led to A Quick-Stor of Hawaii at 1227 Lunalilo St.
Officers recovered some of the chemicals for evidence, and the rest were hauled off by Penco, a private firm hired to dispose of the chemicals.
"Our (clandestine) lab team recognized some of the chemicals to be hazardous materials," Lima said. "If put together, it could be explosive."
The storage locker did not contain an operational meth lab. Police said there were no heat burners or running water found.
The officers wore breathing apparatus and protective suits to enter the container and remove the chemicals.
U.S. Immigration and Customs Enforcement, U.S. Drug Enforcement Administration, state Narcotics Enforcement Agency, police Narcotics/Vice Division and the Scientific Investigation Section took part in the investigation and recovery yesterday. The Department of Health was also present.
Lima said he could not comment on details of the investigation.