---
Parents sue state over drunken-driving death
WAILUKU >> The parents of a 34-year-old woman who was legally drunk when the car she was driving plunged down a 150-foot Maui cliff are suing the state for failing to install a traffic barrier at the outlook.
Ernest and Annette Callo believe the state should have had a barrier at the pali outlook between Maalaea and Lahaina along Honoapiilani Highway.
The Callos' daughter Denise, who also had traces of marijuana in her blood, and 16-year-old James Makekau, a passenger, died in the fall on April 13.
Passengers Tiffany Romena, 16, and her 3-month-old daughter, Kaila Callo, survived.
State transportation spokesman Scott Ishikawa, who had not seen the lawsuit filed Monday in Maui Circuit Court, declined comment.
Rally planned to try to save E bus route
Supporters of the E-route bus service between downtown and Waikiki are rallying today to try to prevent the city from canceling the route.
City officials announced earlier this year that there was no money budgeted for the route.
The Rev. Kathryn Rutenschroer of Waikiki said riders received notice this week that the route would end Sunday.
She said organizers are planning a rally and strategy meeting at 3 p.m. today at the Honolulu Cafe in the Dillingham Transportation Building, 735 Bishop St.
Rutenschroer said supporters are circulating petitions to try to save the route.
Maui police will not handle minor crashes
WAILUKU >> Maui police plan to stop investigating traffic accidents involving less than $3,000 in damage with no injuries on most of the Valley Isle starting July 1. It is part of a six-month pilot program to reduce police handling of minor incidents and focus on criminal cases.
Maui Police Commission Vice Chairman Mark Redeker said it was a common practice, when he worked as a police officer in San Francisco, to minimize police interaction in low-cost, non-injury accidents.
Redeker said the Maui Police Department is short about 50 officers, and some in specialized positions are being assigned to cover patrol shifts.
Honolulu police Capt. Frank Fujii said police on Oahu are not considering a similar move. He said officers can exercise discretion in whether to investigate minor accidents, including situations in which motorists agree on a resolution and do not want a police report.
---
Police, Fire, Courts





By Star-Bulletin staff



HONOLULU
Bus hits man, 56, on Hotel Street A 56-year-old Honolulu man received head injuries yesterday when he was struck by a city bus while crossing North Hotel Street in downtown Honolulu, just Ewa of Nuuanu Avenue.
Witnesses said they saw the man stagger onto the roadway and that he might have been intoxicated.
He was taken by ambulance to Queen's Medical Center.
Police said alcohol might have been a contributing factor in the accident on the part of the pedestrian.
CENTRAL OAHU
Estranged husband accused of assault Police arrested a Wahiawa man yesterday for allegedly breaking his estranged wife's jaw.
The suspect, 24, and the victim, 23, got into an argument at the wife's California Avenue home at about 5:45 p.m. Monday, police said. The man allegedly punched his wife in the jaw, then fled.
The wife went to the hospital, where she discovered that her jaw was fractured. She saw the suspect near her home yesterday and went to the Wahiawa Police Station to make a police report.
Officers arrested the man later for investigation of second-degree assault.
NEIGHBOR ISLANDS
Police seek missing Big Island woman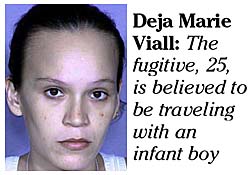 Big Island police are looking for a 25-year-old woman reported missing from her home in Hawaiian Beaches since March 14.
Deja Marie Viall is described as being about 5 feet 4 inches tall, weighing about 155 pounds, with a medium build and brown hair and eyes. She is also wanted on a bench warrant for contempt of court.
Police said Viall could be avoiding law enforcement officers and is believed to be in good health.
She is believed to be traveling with a 5-month-old male infant and driving a gold- or tan-colored 1991 Honda four-door sedan with license number HDE 679.
Anyone with information about her whereabouts should contact officer Peter Kualii or Detective John Ancheta of the East Hawaii Juvenile Aid Section at 961-2373 or 961-2276, or the police non-emergency number at 935-3311. Those who wish to remain anonymous can call CrimeStoppers at 961-8300 in Hilo or 329-8181 in Kona.