SPECIAL
---
---
Excitement grows
as Lingle's group
starts Asia trip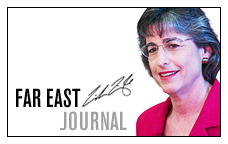 Governor Linda Lingle is sending the Star-Bulletin daily installments of her journal as she travels through China and South Korea.

The 10-day trip is intended to expand Hawaii's business, educational and cultural opportunities.
Honolulu, Hawaii »
After months of planning our multitrack mission to China and South Korea, we finally departed Wednesday midday from Honolulu International Airport.
I arrived at the airport with great anticipation about this important official state trip. After seeing the smiling faces of many members of our delegation who had already checked in for the flight, my level of enthusiasm rose even higher.
Discussions centered around how different this trip is from previous missions because of the six different tracks, and how I was going to move between the tracks daily.
We took off on time, and over lunch we discussed the various events we will attend, like the opening of the Shanghai Film Festival. It was especially interesting to our group how our own Honolulu International Film Festival would integrate its program with this important international cultural event.
Our group began our last leg to Shanghai after a stopover in Osaka, Japan, 12 hours after we departed Honolulu. Everyone was in good spirits and the hospitality from the airlines and airport personnel has been outstanding.
We arrived in Shanghai at 4 a.m. Hawaii time and were greeted by Consul General Zhong Jian Hua of the Chinese Consulate General in Los Angeles and his wife, Lu Qingjiang, of the Consulate's Political and Press Section, along with Li Jian Ping, Secretary General of the China Friendship Association. Retired Adm. Thomas Fargo is with our official group and will be with me for all my meetings.
We start tomorrow at 8:45 a.m. It should be an exciting and productive day.
I look forward to reporting to you tomorrow on my first full day in China.