---
[ FAST FACTS HAWAII ]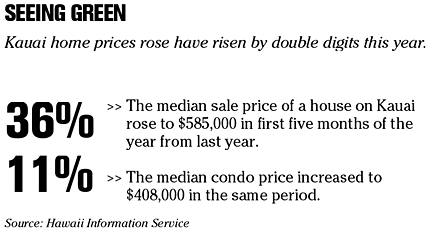 ---
BACK TO TOP


|


[ HAWAII INC. ]
PROMOTIONS
>>
Bank of Hawaii
has promoted five employees to vice president from assistant vice president:
Carrie L. Brown
has been promoted to vice president and product manager. She will be responsible for developing, implementing and managing deposit products and services for business customers in Hawaii and the West Pacific.
Tiffany C. Chang
has been promoted to corporate banking division vice president. She has over 18 years of banking experience.
Julianne A. Kaya
has been promoted to vice president in corporate sourcing. She joined the company in 1987 as an operations trainer.
Celia B. Molina
has been promoted to ATM servicing department vice president. She will be responsible for ensuring that the bank's ATM operations are compliant with current regulations.
Sandra C. Niebling
has been promoted to vice president of personal trust - family wealth . She joined the bank in 1999 from the law office of
Peter Ng
.
>> Helping Hands Hawaii has appointed Donald S. Gedeon, Stanley Luke and Susan Furuta vice presidents. Gedeon has been promoted to executive vice president. He will be responsible for providing overall direction and control of agency operations. Luke has been promoted to behavioral health vice president. Furuta has been promoted to human resources vice president.
>> Group 70 International, an architecture firm, has promoted Kim Evans to associate. She will help manage the firm. She has more than eight years of urban and environmental planning experience.
>> Hawaiiana Management Co. has promoted Kore Waymack Bormann to management executive. She previously served as an administrative assistant. Before joining the company, she served as an Oregon school district construction administrator.
>> Helber Hastert & Fee, Planners Inc. has promoted Scott Mowery to associate. His background includes environmental and military planning, policy analysis and program management.
>> Central Pacific Bank has promoted and hired the following personnel: Arnold D. Martines has been promoted to senior vice president and portfolio management approval division manager. Helen H.K. Kwok has been promoted to senior vice president and senior credit administrator. Adrienne U. Chee has been promoted to vice president and technical support department manager. Denise T. Haruki has been hired as vice president and company senior commercial banking officer. Robert W. Richie has been hired as vice president and trust division investment team manager. Michael R. Schutt has been promoted to vice president and investment consultant. Angela M. Higa has been promoted to assistant vice president and Mapunapuna branch manager.
>> Hawaiian Natural Water Co. has promoted Steven D. Kephart to operations vice president. He previously served as a Pyramid Breweries Inc. production manager. He is the Hawaiian Food Manufacturers Association president.
---
HAWAII
'Doc' Buyers retires from mac nut company John W.A. "Doc" Buyers and Ralph C. Hook Jr., founding directors of the state's largest macadamia nut grower, ML Macadamia Orchards LP, have retired as directors of the company's general partner.
Buyers, 76, is a longtime Big Island businessman who took the helm of former Big Five company C. Brewer & Co. in 1974. He stepped down last year as chief executive of Hilo-based ML Macadamia, and was replaced by the company's president, Dennis Simonis. Buyers remained chairman of the board.
Earlier this year, Buyers sold his 75,757 shares of ML Macadamia stock back to the company for $750,000, allowing the company gain control of ML Resources Inc., the general partner.
The board of ML Resources has appointed three new directors: Alan Kennet, James S. Kendrick and Jeffrey M. Kissel.
ML Macadamia also said yesterday that it is maintaining its quarterly dividend at 5 cents per Class A Unit. The distribution will be paid to unit holders on Aug. 15.
Deputy business director named
Mark Anderson, acting deputy director of the state Department of Business, Economic Development and Tourism, has been made permanent deputy director.
Anderson is formerly an administrator of Hawaii's foreign trade zone program and became acting deputy in January, when Steve Bretschneider left the state to work for Los Angeles-based Deep SeaWater International Inc.
NATION
SEC snags $200 million settlement A former chief executive of the AremisSoft Corp., a defunct software company, has agreed to pay $200 million to settle fraud accusations made by the Securities and Exchange Commission. That is about the amount of the unlawful profit that the commission said he made trading AremisSoft stock in 2000.
The executive, Roys Poyiadjis, also agreed to a lifelong ban on running a public company. He did not admit or deny wrongdoing. The SEC said the settlement, which it announced yesterday, was among the largest it has made with an individual.
Qwest warns managers of strike
DENVER >>
Qwest
has told its managers they may have to take on the jobs of union employees if contract negotiations break down this summer and workers strike.
The Denver-based telecommunications company informed its 16,000 managers in an e-mail yesterday that they won't be allowed time off in the last half of August if a contract agreement has not been reached.
The contract with the Communications Workers of America District 7, which has about 25,000 members employed by Qwest, expires at midnight Aug. 13. Talks are scheduled to begin June 22.
The company's health plan will be the most contentious item in bargaining sessions, predicted LeRoy Christensen, a member of the CWA's bargaining committee.