---
Punchbowl brush fire closes cemetery
The fast-moving blaze is
controlled by crews as many
visitors are stuck inside
A quick-moving brush fire scorched the slopes of Punchbowl yesterday, forcing the closure of the National Memorial Cemetery of the Pacific on Memorial Day weekend.
About 300 people inside the cemetery were trapped for more than an hour when the fire came too close to the only road leading in and out. Others had to adjust their Memorial Day plans and reschedule visits to the cemetery.
Residents of nearby apartment buildings and homes scurried to hook up water hoses and turn on sprinklers just in case the fire spread.
"It was too close for me. It was just too close," said Kathy Buckley, who lives on the fourth floor of an apartment building on Prospect Street and had a clear view of the flames spreading toward the cemetery.
The blaze started about 2 p.m. on a hillside behind Stevenson Intermediate School. More than 45 firefighters worked for about an hour to get it contained before it could threaten homes.
The fire was declared extinguished at 5:45 p.m., but firefighters returned about two hours later to douse a hotspot.
Fire Capt. Emmit Kane said about six acres were burned in the fire.
Firefighters used hoses -- attached to lines at the cemetery and on the street -- as well as several water drops from a helicopter, to put out the flames. The cause of the fire was still under investigation last night.
"It's just a reflection that brush fires aren't isolated to Leeward or Central Oahu," Kane said. "Everywhere is susceptible."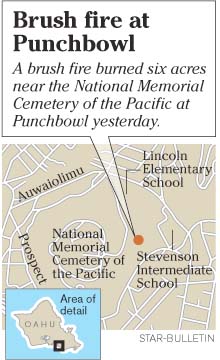 Gene Castagnetti, the director of the Punchbowl cemetery, said the Fire Department had trained just last week for an event similar to what happened yesterday.
He also said "it's a good thing" that the fire didn't erupt today, when 2,500 Boy and Girl Scouts -- along with their parents -- are scheduled to be at the cemetery to place leis on about 38,400 graves.
When the fire was at its height, smoke filled the cemetery.
"It came pretty close ... and it was rushing up pretty fast," said Craig Ellenwood, who went to Punchbowl to get a better view of the flames and ended up stuck until police reopened the road. "The wind was definitely blowing into the cemetery. People were just generally concerned."
Lolly Suwa, who was visiting her grandfather's grave, said that at about 3 p.m., officials told those at the park that there'd be another hour wait. "Then at 3:30, they said, 'Everybody out in 10 minutes.' "
People that had been standing around or sitting on the grass, Suwa said, jumped into their cars and lined up to leave.
While firefighters worked to quell the flames, black smoke billowed from Punchbowl and could be seen from miles away. Along Prospect Street, people stood in front of their homes to watch the flames -- and the fire's direction.
Matthew Perry and his wife stood outside on Prospect Street yesterday, trying to decide whether to be worried about the fire. Perry said that just that morning he had woken up, looked at the sunny skies and a brown, dry Punchbowl and shuddered to think what a large brush fire would mean for the area.
"You sure hope kids didn't start this," he said, with a sigh.
The last time flames spread up Punchbowl's slopes was in 2000. The New Year's Eve blaze was fireworks-related, and took about two hours to extinguish.
A decade ago, a similarly sized brush fire was also put out without property damage or injuries, Castagnetti said.
In addition to closing the road to the cemetery yesterday, police closed portions of Prospect Street near Stevenson Intermediate School.
---
Star-Bulletin writer Diana Leone contributed to this story.