---
[ FAST FACTS HAWAII ]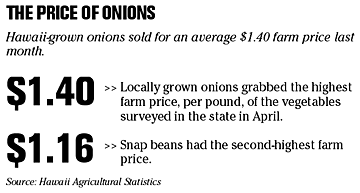 ---
BACK TO TOP


|


HAWAII
74 Ko Olina condos sell out in 4 hours
Dallas home developer
Centex Destination Properties
sold out 74 condominium villas in the first phase of Ko Olina Hillside Villas in four hours on Tuesday.
The company said 70 percent of the buyers were from Oahu and many of them work in Leeward Oahu. The entire development will have 174 villas, with a second phase to be sold in the fall.
NATION
Mobile-phone sales zoom 17%
Mobile-phone sales continued at a torrid pace in the first quarter as consumers worldwide latched on to camera phones and cheap deals, according to a new report.
The industry reported that 180.6 million units were sold in the first quarter of this year, a 17 percent increase from the same period a year ago. That continued a buying boom that began two years ago and really took hold last year, according to market research firm Gartner Inc. The new figures prompted Gartner to revise its mobile-phone sales estimates up to 750 million units from 720 million for 2005.
Still, industry analysts predict a cooling-off trend as some of the emerging markets in China and elsewhere stabilize while existing mature markets in North America and Europe slow down after a recent frenzy in phone replacement sales.
Alaska Airlines reaches new pact
Alaska Airlines and its pilots union reached agreement on a new contract that will cut wages by 20 percent and replace a contract put in place after an arbitrator said earlier this month that pay should be cut 26 percent.
The new five-year agreement is still subject to a vote by the carrier's 1,465 pilots, who are represented by the Air Line Pilots Association, the Alaska Air Group Inc. unit said in a statement. The agreement would replace a two-year contract that was put in place May 1 after the arbitration decision, the Seattle-based company said.
Union leaders will meet Wednesday to decide whether to send the proposed contract to pilots for a vote that would occur by the end of next month, said Jenn Farrell, a spokeswoman for the union. Company and union negotiators were able to reduce the size of the pay cut by changing some work rules to gain more productivity for the airline, both sides said.
WORLD
Regulator approves Parmalat plan
ROME » Italy's stock market regulator said yesterday it has approved a proposal by Parmalat
Finanziaria SpA
to go public, part of the dairy giant's plan to recover from a massive fraud scandal and pay back creditors.
The regulator gave the go-ahead for Parmalat's proposal for listing on the Italian stock exchange Thursday, Consob spokesman Alberto Aghemo said.
Consob had rejected an earlier proposal for relisting at the end of March, asking for additional information about Parmalat's foreign subsidiaries and the risks connected to legal proceedings involving the company.
Aghemo said Parmalat had provided that information.