---
[ FAST FACTS HAWAII ]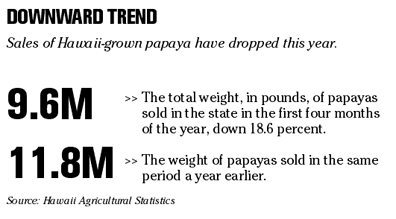 ---
BACK TO TOP


|


McAfee to provide security for Hawaiian Telcom DSL
California-based computer security firm
McAfee Inc.
will provide a free package of Internet security programs to residential customers of
Hawaiian Telcom
's high-speed Internet service.
All of Hawaiian Telcom's digital subscriber line, or DSL customers can opt to receive antivirus protection, spyware software, spam and pop-up blockers and parental controls, a suite valued at nearly $70.
Hawaiian Telcom's best-selling Internet service costs $29.95 a month with a one-year contract.
Fed still worried about inflation
The Federal Reserve's Open Market Committee saw rising inflation as a bigger threat to the economy than a series of weak economic reports and decided to raise interest rates at its May 3 gathering, minutes of the meeting show.
"Most members regarded the recent slower growth of economic activity as likely to be transitory," according to the records released yesterday in Washington. "All members regarded the stance of policy as accommodative and judged that the current level of short-term rates remained too low to be consistent with sustainable growth and stable prices in the long run."
Japan exports surge 7.8 percent in April
Japan's exports rose at the fastest pace in four months in April, led by autos and steel, suggesting that overseas demand will support a recovery in the world's second- largest economy.
Exports rose 7.8 percent from a year earlier, after gaining 6.1 percent in March, the Ministry of Finance said in a report today in Tokyo. Imports rose 12.7 percent as oil prices gained, reducing the trade surplus by 10.4 percent to $8.95 billion. The median forecast of 24 economists surveyed by Bloomberg News was for the surplus to fall 18 percent.
Manufacturers including Kenwood Corp. say faster-than-expected economic growth in China and the United States will boost sales this year. A rebound in exports, which fell for the first time in more than three years last quarter, may support a recovery from last year's recession.
Nokia expands beyond phones with Tablet
NEW YORK »
Nokia Corp.
is straying from its core cellular business with its first non-phone mobile device, a handheld Internet tablet for accessing the Web around the home over a wireless broadband connection.
The Nokia 770 Internet Tablet unveiled today is based on the open-source Linux operating system rather than the Symbian platform it uses for "smart" cell phones or the mobile version of Microsoft Corp.'s Windows.
Nokia said it plans to publish the source code in hopes developers will write customized software for the device.
Priced at $350, the Internet Tablet is being positioned as an alternative to buying an extra personal computer or laptop for different rooms.
---
BACK TO TOP
|
[Hawaii Inc.]
New Jobs
>>
General Growth Properties Inc.
has appointed
Erica Neves
Ala Moana Center tourism director. She will work with the media and key travel partners in the industry to promote the center as a visitor attraction for shopping, dining and entertainment. She previously served as
Castle Resorts & Hotels
corporate communications director.
» Gov. Linda Lingle has appointed Ronald I. Heller to the Hawaii Tax Review Commission. He will assist the commission in evaluating the state's tax structure and making recommendations regarding revenue and tax policy. He was an attorney/certified public accountant for the law firm Torkildson, Katz, Fonseca, Moore & Hetherington.
Promotions



CORRECTION

Thursday, May 26, 2005



» Patricia Terry has been promoted to assistant vice president and branch manager of the Honolulu Wal-Mart branch of American Savings Bank. An item on Page C2 yesterday incorrectly said Terry was named vice president.



---




The Honolulu Star-Bulletin strives to make its news report fair and accurate. If you have a question or comment about news coverage, call Editor Frank Bridgewater at 529-4791 or email him at

corrections@starbulletin.com

.
»
Nishihama & Kishida CPAs Inc.
has promoted the following employees:
Carl Chu
has been promoted to tax senior.
Geoffrey Dela Cruz
has been promoted to audit senior.
Jie Li
has been promoted to audit senior.
» American Savings Bank has promoted Patricia Terry to vice president and branch manager of the Wal-Mart Honolulu branch. She joined the company in January 2004.
>> Alexander & Baldwin has promoted Julie Nash to corporate planning director. She will be responsible for the company's planning activities, including developing standards and leading key business review and capital processes. She previously served as the company's corporate planning manager.