---
[ FAST FACTS HAWAII ]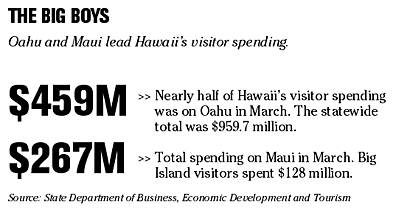 ---
BACK TO TOP


|


4 companies bidding on Kapolei housing
Four companies have submitted bids to develop state affordable housing on three vacant parcels in the Villages of Kapolei.
Competitors include local builders Castle & Cooke Homes Hawaii and D.R. Horton and California companies Enhanced Affordable Development Co. and UniDev LLC.
The state Housing and Community Development Corporation of Hawaii plans to make a decision by July.
Hilton pays $65M for Big Isle land
Hilton Hotels Corp.
announced yesterday it is buying 112 acres of undeveloped Big Island land from
Waikoloa Development Co.
for $65 million.
The company said it has not yet determined what it will due with the land, which is located around the King's Golf Course and King's Shops in Waikoloa but not in Waikoloa Village itself.
"We don't have any definite plans for this purchase," Hilton spokeswoman Kathy Shepard said.
The deal comes about a month after Hilton said it would pay $115 million for the fee interest to 65 acres under its Hilton Waikoloa Resort. The land is being sold by Lanpar/HTL Associates.
Hilton previously has said it is building and marketing two-bedroom time-share units at the Waikoloa resort and was planning for future time-share developments.
A unit of Waikoloa Development Co. earlier this year sold the King's Shops to a local affiliate of Connecticut-based CoastWood Capital Group LLC for $76.4 million.
ATA offers interisland flight deal
Fly to Hawaii, get an interisland flight free. That could be Pleasant Holidays' slogan this summer as it promotes new flights on
ATA Airlines
from Los Angeles to Kona on the Big Island.
The company said customers arriving at Kona aboard ATA's Boeing 757 flights will be entitled to fly one-way from there to Oahu, Maui or Kauai, then return to Los Angeles aboard an ATA flight leaving from those islands.
Conversely, the company said, customers can arrive from Los Angeles at Oahu, Maui or Kauai, then take the free interisland flight to Kona and return to Los Angeles from there.
The promotion will run June 12 through Aug. 28 and be valid only if it is part of an air/hotel vacation package on each island visited.
Hawaii travel costs rose 2.4%
Families traveling to the islands this year will pay about 2.5 percent more than last year, according Travel-Hawaii.com's latest Hawaii Family Vacation Cost Index.
The index refers to a typical family of four on a seven-night Hawaii and is based on visitor-expenditure figures collected by the state Department of Business, Economic Development and Tourism. Travel-Hawaii.com adds average air fare prices for round-trip flights.
For 2005, the index shows the typical family of four spending $6,998, compared with $6,831 in 2004; $6,591 in 2003; and $6,342 in 2002.
In the pre-9/11 days, the figure was $6,476 for 2001, while in 2000 it was $7,259.
Moanalua, Waianae students win
Students from Moanalua and Waianae high schools won events during the third annual statewide High School Marketing Plan and Business Plan Competitions, which drew more than 40 teams from several schools.
A Waianae team, Serenity Soaps Hawaii, won the business competition, while a Moanalua team won for its redesign of the school cafeteria to increase sales.