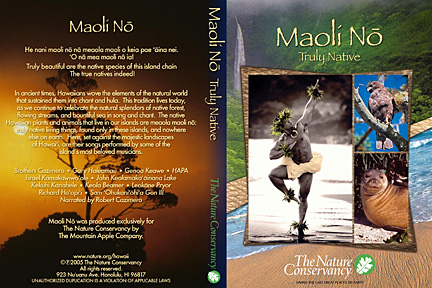 ---
DVD uses isle images,
music as nature lesson
---
Listen, attend
to the songs of the birds
to the voice of the wind
to the lyrics of the ancestors
The knowledge of Hawaiian nature
lives in song, chant and dance
---
THIS VERSE by Hawaiian specialist Sam Ohukaniohia Gon sums up the call behind a new, free DVD being distributed by the Nature Conservancy that uses Hawaiian music as a way to teach about culture and the native environment.
'Maoli no'
For information on how to obtain a copy of "Maoli No: Truly Native," visit the Nature Conservancy's Web site at www.nature.org/hawaii or call a conservancy office on your island: Oahu, 537-4508; Molokai, 553-5236; Big Island, 885-1786; Kauai, 826-6572; and Maui, 572-7849.
Stunning images of nature and beloved classics, such as Israel Kamakawiwoole singing "Opae E," entice listeners to learn more about what inspired the music.
"Many of the songs will be familiar to lovers of Hawaiian music," said Jon de Mello, of the Mountain Apple Co., which produced the DVD as a labor of love. "What may be new, however, is to learn the stories behind the songs. A lot of people will find themselves saying, 'I love that song -- I didn't know that's what it's about!'"
Opae, for example, are native shrimp -- the first sea creature called upon for help in the melody composed by Irmgard Aluli and Pilahi Paki. The song illustrates how every creature has a role to play in its ecosystem.
The DVD, called "Maoli No: Truly Native," released this week, takes viewers on a musical and visual journey from Hawaii's forests to the ocean, with interludes offering nuggets of environmental knowledge narrated by Robert Cazimero. It includes lyrics in Hawaiian and English, as well as notes about the meaning behind the songs.
"We thought it would be a great way to learn about our native environment from the cultural perspective, because music is such a powerful way to move people and Hawaiian songs are so rooted in our native Hawaiian environment," said Suzanne Case, executive director of the Nature Conservancy of Hawaii.
"It's set up so you can study it and learn a lot, and you can also just enjoy it and have your own personal experience with the forest," she said.
"Maoli No" is being given away to schools, environmental education organizations, hula halaus, cultural groups and others for use in conservation education. Some 10,000 copies will be distributed.
"Our hope is to reach as broad an audience as possible, but a special emphasis is being given to our keiki," Case said. "The hope is that all who listen to it will answer the call to malama aina, to care for the land."
Musicians, composers, chanters, hula teachers, photographers, conservationists, scientists and educators all donated their work. Among the featured artists are Keola Beamer, Richard Hoopii, the Brothers Cazimero and Genoa Keawe.
Case and Leokane Pryor, who together wrote one of the songs on the collection, created a Web site (www.hoolono.org) featuring songs that honor Hawaii's native plants and animals. Case later approached de Mello with the idea of a CD, and he suggested a video would have more impact.
Environmental educators from across the state will meet later this month to develop lesson plans for the DVD, which should be available to teachers in the fall.
"There is an intimacy between Hawaiians and the natural world that has largely been lost but maintained tenuously through hula and chant," Gon said. "'Maoli No' is a call to strengthen those connections so that an intimacy between people and land is rebuilt."