---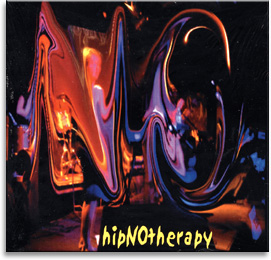 "HipNOtherapy"
The No-No Boys
(self-released)
Does the name of this quartet honor the forgotten group of Japanese Americans or allude to the fact that two of the "boys" are female? Although the answer isn't found in this economically packaged eight-song album, the music is so smooth we'll leave the mystery to another day. All the songs are originals, and the Boys embrace reggae, ska, rock and jazz in an engaging radio-friendly way. Their sound is sometimes reminiscent of No Doubt, the Divinyls or Stevie Nicks but never to the point where they're shamelessly cribbing from their music.
Kristy Mizushima and Julie Avilla share credit for the appealing vocals. The liner notes mention that they were recorded live; that means old-style harmonies rather than depending on overdubs. That's a nice "old school" touch!
Mizushima's flute-playing adds organic accents while Derrick Ford (bass) and Dwight Fontenot (on "skins" and "toys") are solid as the rhythm section.
www.thenonoboys.com
---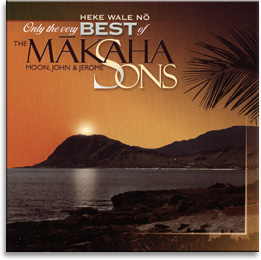 "Heke Wale No:
Only the Very Best of
the Makaha Sons"
Makaha Sons
(Poki)
Poki Records continues its "Heke Wale No" series with this excellent retrospective on the Makaha Sons. It's hard to believe almost 12 years have passed since Israel "IZ" Kamakawiwo'ole abruptly quit the Makaha Sons of Ni'ihau a few days before the quartet's annual Makaha Bash concert. Louis "Moon" Kauakahi, Jerome Koko and John Koko dropped the last part of the band's name and continued on to new opportunities and greater success as a trio.
Among the 15 songs here is "Ke Alaula," the title song of the Hoku Award-winning album that introduced them as a trio in 1994. Longtime fans will also applaud the inclusion of the Sons' crowd-pleasing medley, "Drums of the Islands/Waterfall."
Throw in a discography and annotator Tim Mathre's erudite overview of the Sons' first 12 years, and this is a perfect introduction to the music of Moon, John and Jerome.
www.makahasons.com
---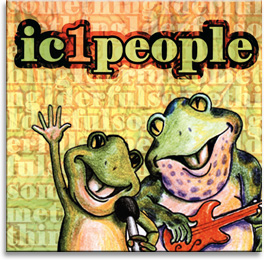 "something 1derful"
ic1people
(self-released)
Never mind the whimsical cover art. This isn't another local knockoff of David Seville and the Chipmunks -- or Kermit the Frog either, for that matter. This is basic, mainstream pop-rock. "Frog1 Log" starts off as a novelty song about a guy sitting on a log with his frog and develops into a harmless vignette about trying to get a date. It's all G-rated and surprisingly entertaining.
The other song, "Love Has Come," features an unidentified vocalist (who sounds a bit like Jim Morrison) singing a bluesy requiem of a shopping list of contemporary recording artists, actors and political figures. This, too, is more substantive than might be expected when looking at the album cover.
The ic1people present other versions of those two songs in subsequent tracks. The alternative arrangements turn out to be more than karaoke track filler. "something 1derful" is available at www.ic1people.com.
www.ic1people.com

John Berger, who has covered the local entertainment scene since 1972, writes reviews of recordings produced by Hawaii artists. See the Star-Bulletin's Today section on Fridays for the latest reviews. Contact John Berger at
jberger@starbulletin.com
.