---
[ FAST FACTS HAWAII ]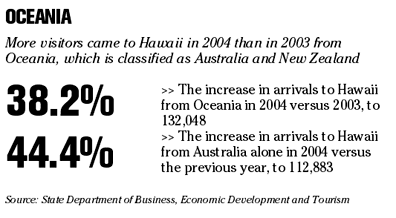 ---
BACK TO TOP


|


Hawaiian Air to offer keiki fare, too
Hawaiian Airlines
said yesterday it will offer a half-price promotional keiki fare, matching a similar offer announced Tuesday by rival
Aloha Airlines
.
Tickets for the Hawaiian promotion are available for purchase May 7 through May 20 and are valid for travel through June 15. Travel must be booked and ticketed through Hawaiian Airlines at 838-1555 or (800) 367-5320.
The offer is limited to electronic tickets and applies to any regular published interisland fare on Hawaiian Airlines. Web fares are excluded.
Army finding new soldiers online
The U.S. military has responded to shortfalls in recruiting by posting more jobs on Internet career sites, including
Monster Worldwide Inc.
's Monster.com, where military job listings have grown more than 79 percent since December.
The Army, to help meet personnel needs exacerbated by the war in Iraq, is planning to boost spending on Web-recruiting 12 percent this year to $17.8 million.
"The military is embracing the Internet as an employee recruitment tool more aggressively," CareerBuilder.com spokeswoman Jenny Sullivan said.
The Web site, jointly owned by Gannett Co., Knight-Ridder Inc. and the Tribune Co., had a 40 percent increase in military job listings in January compared with the same period a year earlier.
The online recruiting spending, about 10 percent of the Army's total advertising budget, helps send roughly 200,000 potential enlistees to the goarmy.com Web site each week, said Harvey Perritt, a spokesman for the Army's Training and Doctrine Command, which oversees recruiting.
"The Internet has proved to be our most effective recruiting tool short of a live recruiter," Perritt said in an telephone interview.