Victim of killing identified
A man found dead on the Big Island
was once a member of a Hawaii club
in Seattle



CLARIFICATION

Sunday, April 17, 2005



» It is not clear if an autopsy showed that Arman Johnson, whose body was found in Hawaii Volcanoes National Park, was shot in the head. According to a news release, the autopsy showed Johnson was shot, but not necessarily in the head, as a photo caption on Page A3 yesterday stated.



---




The Honolulu Star-Bulletin strives to make its news report fair and accurate. If you have a question or comment about news coverage, call Editor Frank Bridgewater at 529-4791 or email him at

corrections@starbulletin.com

.
HILO » As a young man in Seattle in the early 1980s, Arman Bernard Johnson liked to hang around students from Hawaii who were attending Seattle University.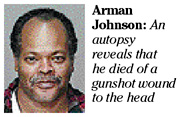 Former University of Hawaii-Hilo basketball coach Jimmy Yagi recalled that Johnson even learned enough hula that he was able to dance at the graduation ceremonies back then for Yagi's son, Kirby.
The FBI has identified Johnson, 44, as the homicide victim found Wednesday in the Kahuku area of Hawaii Volcanoes National Park. Johnson had no fixed address, the FBI said yesterday.
Johnson's body was found about 20 yards off a side road near the Kahuku entrance to the park, the FBI said. An autopsy done yesterday showed that Johnson died from a gunshot wound.
He was identified through fingerprints, and next of kin on the mainland were notified, the FBI said. Yagi said yesterday that Johnson's mother and possibly other relatives live in Seattle.
Another person who remembered Johnson from those student days was state Sen. Willie Espero, who recalled that Johnson was a member of the Hawaiian Club, unusual then for a person who was not from Hawaii.
Johnson came to Hawaii sometime in the 1980s, Yagi said. "He was a nice guy, really friendly," Yagi recalled.
Johnson initially worked as an athletic trainer, helping on the sidelines to keep high school athletes in shape, Yagi said.
But Yagi lost track of Johnson during the 1990s. The last time he saw Johnson was at least 10 years ago at a spa at a West Hawaii resort, where he was a masseur.
After police were notified about the discovery of the body Wednesday, the case was turned over to national park law enforcement officers, who called the FBI because the body was found on federal property.
An FBI Evidence Response Team was sent to the site Thursday. Hawaii County police and national park personnel are continuing to assist with the investigation, the FBI said.
Anyone with information is asked to call the FBI at 808-566-4300 or police at 808-935-3311.