Verizon Hawaii buyer
needs more time
The Carlyle Group is assessing
conditions the state placed on its
purchase of the phone company
The Carlyle Group is asking the state Public Utilities Commission for more time to analyze conditions the commission placed on Carlyle's purchase of Verizon Hawaii.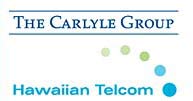 The commission last week approved Carlyle's $1.65 billion purchase, but also stipulated several provisions, including a requirement that Carlyle increase its cash investment by about $100 million in the highly leveraged deal.
Carlyle yesterday requested that the commission extend until April 4 a window in which Carlyle can ask the commission to reconsider its decision.
Industry observers have said the commission's requirement that the company increase its cash stake could make Carlyle reassess whether it wants to go ahead with the acquisition.
But Carlyle spokesman Nathan Hokama said yesterday the firm is still interested in completing the deal.
"Both Verizon and Carlyle have said that they will continue to seek a timely and mutually satisfactory transfer of Verizon to Carlyle," Hokama said.
Both sides just need more time to analyze the additional regulatory conditions set by the commission, Hokama said.
The commission will rule on the extension, which must be approved by at least two of the three commissioners to take effect, said Kris Nakagawa, chief legal counsel for the commission.
If the commission does not approve the extension, Carlyle will have to file any requests for reconsideration or clarification of the order by Monday, Nakagawa said.
Washington, D.C.-based Carlyle, which manages $25 billion on behalf of its investors, announced plans last May to buy Verizon's Hawaii telephone operations. The purchase would include the local telephone business, long-distance and Internet services as well as Verizon's print yellow page business.
But the commission expressed concern that more than 82 percent of the deal would be financed by debt, and required that amount be lowered to about 76 percent. The decision also barred any divided payments to investors until the debt is lowered to 65 percent of the deal.