[ GOOD EATS ]
Kupuna contribute
favorite recipes for
new Alu Like book
Stories of growing up in the days
of self-sufficiency are also included
Kay Napoleon offers this advice about eating well: "This is truly a secret of good health -- a pure heart and a well-ordered mind."
And it doesn't hurt to eat your vegetables.
"Hawaii's Home Cooking" (Mutual Publishing, 2004, 144 pages paperback, $13.95) takes as its theme "Health Comes from Within." It was produced by Alu Like, a nonprofit group that serves the native Hawaiian community. Contributors were kupuna -- senior citizens served by Alu Like programs on five islands -- such as Napoleon, from Waimanalo.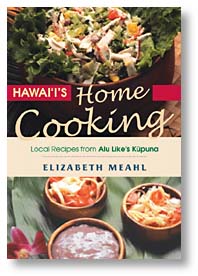 They provided not just favorite family recipes, but also stories of growing up in times of self-sufficiency, when meat came from backyard pens, fish from the sea, produce from the garden -- and it was all caught and prepared within the family.
"I grew up with five siblings in a fishing village and a huge farmland where we grew taro, fruits, vegetables and flowers," wrote Lucy Siu of Hilo.
"Very simple life ... nothing fancy. We raised pigs, cows, chickens, ducks, sheep, goats; dogs and cats as pets; horses to ride on the farm. But fishing was my way of life growing up. ... I used to make fishing nets and also pound poi. ... I used to cook for a family of 12 at times."
A meal from this cookbook might begin with Auntie Ku'ulei's Codfish Pupu, followed by Gai Choy Soup and Chicken Poi Stew, with a Cabbage and Ebi salad on the side and Pumpkin Mochi for dessert.
Because of Alu Like's focus on good health, much of the commentary in the cookbook involves the importance of fresh fruit and vegetables, even in past times of scarcity.
"We had a victory garden," wrote Pauline Palencia of Hilo. "My father made all the children plant two of their favorite vegetables that they enjoyed eating."
Her memories of that time include "watching our garden grow, harvesting and eating it."
Palencia contributed a "Dis-n-Dat" recipe, meaning it was submitted without measurements, with the ingredients meant to be added "to taste."
The cookbook's editors added approximate quantities, but in keeping with the spirit of the recipe, you should taste and adjust as you go.
Can Sardines

1 clove diced garlic
1/2 Maui onion, sliced
1 bay leaf
1 can tomato sardines or oil sardines (either variety is OK, whateva you have)
Sauté garlic, onion and bay leaf (I prefer half-cooked vegetables because I like it crunchy).
Remove sardines from can, debone if you like and add to onions, folding carefully as to not break up sardines. Cover and turn off stove.
Nutritional information unavailable.
---