---
[ FAST FACTS HAWAII ]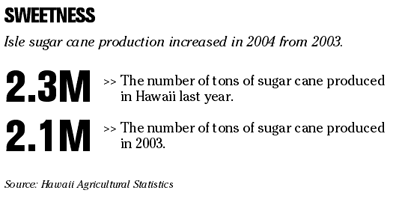 ---
BACK TO TOP


|


Flight attendants reject Hawaiian Air contract
Hawaiian Airlines
' flight attendants have narrowly rejected a modified contract, leaving the company without ratification from three of its six union groups with the confirmation hearing on a reorganization plan less than two weeks away.
The Association of Flight Attendants' Hawaiian Airlines unit voted 240-220 to reject the contract that was recommended by its union representatives. There were 771 flight attendants eligible to vote.
"We're looking at our options at this point," said Sharon Soper, president of the local AFA.
So far, only Hawaiian's clerical workers, dispatchers and computer network engineers have ratified contracts. The clerical workers' ratification occurred after it initially rejected the contract.
The mechanics, who previously rejected a contract, have reached a tentative agreement on a new one and are planning a ratification vote. The pilots and Hawaiian have not been able to agree on a pact and a hearing is scheduled to begin Monday on a motion by the airline to impose a contract on the pilots.
Pacific Guardian opens office No. 3
The
Pacific Guardian Life
insurance company has opened its third Oahu office at the Pacific Guardian Center on Bishop Street.
The company, based at the Pacific Guardian Tower across from Ala Moana Center on Kapiolani Boulevard, also recently opened an office in the Filipino Community Center in Waipahu.
S&P raises outlook for Bankoh
Standard & Poor's Ratings Service
has upgraded the outlook for
Bank of Hawaii Corp.
to positive from stable following the bank's turnaround between 2000 and 2003.
The service cited the bank's new management and lower credit risk profile, saying Bankoh's core profitability compared favorably with regional banking peers and will continue to do so.
However, the bank's strong financial performance balances the risks of concentrating in the "somewhat cyclical" Hawaii economy, S&P said.
---
BACK TO TOP
|
[Hawaii Inc.]
NEW JOBS
» The Sheraton Keauhou Bay Resort & Spa has hired
Natalie Cone
as director of love and
Stephen Waldmann
as catering and conference services director. Cone will be responsible for helping wedding couples create their perfect dream wedding in paradise. She most recently was a full-service wedding coordination company proprietor. Waldmann will be responsible for coordination of group meeting arrangements, food and beverage functions and other duties. He has more than 25 years of experience in the hospitality industry.
» Griffith Construction Consultants has hired Tim McMonigle as a project director. He will be responsible for providing project management oversight for construction developments on Maui, Kauai, the Big Island and Oahu. He most recently served as Construction Management and Development senior project manager.
» Ogilvy & Mather Hawaii Inc. has hired Jim Horiuchi as strategy and creative director, Leigh-Ann Cyboron as traffic manager and Tiffany Below as production artist. Horiuchi will be responsible for overseeing the agency's creative department and drive strategic marketing plans and campaigns for all clients. Cyboron will manage day-to-day processes for the agency's print, broadcast and Web projects and monitor staff efficiencies and resources. Below will handle layout design and production of client collateral and advertising needs.
» The Hyatt Regency Maui Resort and Spa has appointed Frank Lavey general manager. He will be responsible for overseeing resorts operations as well as meeting and convention facilities. He previously served as the Hyatt Regency Waikiki Resort & Spa general manager.
» Aloha Festivals has appointed Charlian Wright executive director. She will be responsible for overseeing all 2005 Aloha Festival activities and operations. She has over 37 years of visitor industry experience.
» OfficeMax has appointed Rudy Mayo Hawaii operations managing director. He will be responsible for the company's new retail connect program.