---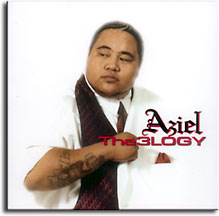 "Tha3logy"
Aziel
Lastwon Productions
Aziel Toeaina makes a welcome return to the local music scene and reestablishes himself as a leader in Polynesian- American "urban" music with this impressive album.Some of his "boyz" have a weakness for faux-Jamaican posing, but Aziel puts a distinctive personal spin on the music without sounding like an Afro- wannabe.
He shows his strength as a balladeer on "I'm All Ready to Fall," and reveals his harder side with "Haterz," a solid and soulful number where the catchy beat is reinforced with smooth harmonies.
A peppy reggae-style rhythm and a strong lyric hook make for a winning formula in "Bright Sunny Day." B.E.T. joins him on "My Lady," ensuring its strong appeal for both Jawaiian and Jamoan fans.
The pain of losing loved ones has been a recurring theme in Aziel's music, and he addresses it with simple eloquence in several songs here.
www.lastwon.net
---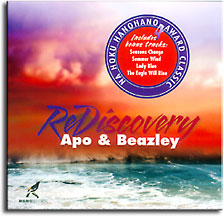 "Rediscovery"
Apo & Beazley
Mamo
Peter Apo ventures where few artists would go in releasing this hybrid project. It includes eight of the 10 songs from Apo & Del Beazley's 1988 album (albeit in a different order), and four "bonus tracks" that he recorded later without Beazley. In other words, this is not the complete reissue of the "Na Hoku Hanohano Award Classic" that's touted on the CD cover, and it doesn't contain any previously unreleased recordings by Apo & Beazley either.
The best that can be said about this new album is that Apo's solo material doesn't clash with the classics.
Apo provides no information about the history of the duo, or what they've done since as solo artists in the past 16 years. Apo made important contributions as a Hawaiian nationalist recording artist and producer. With a recent solo song, "The Eagle Will Rise," he makes a pro-American response to the 9/11 attacks.
- No contact information -
---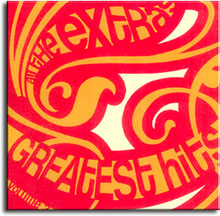 "Greatest Hits Volume 3"
All the Extras
All the Extras
The wit and self-deprecating humor of All The Extras made them a delightful discovery amid the more established bands heard on the recent "Send Ska -- The Best of 2004" anthology. ATE now steps out with their own full-length album that continues what "Face for the Radio" and "Your Favorite Band Sucks (Unless It's Us)" started.
This may or not be their third"greatest hits" album, nut there's plenty of solid ska, modern rock and unconventional musical humor here.
The supposedly "previously unreleased" tracks are the oddest. "Hamburger Haben" suggests an appreciation of obscure Monty Python bits. "Do You Know the Mot?" is a similar scenario (in French yet!), and "Chinese Army Invading Mongolia" appears to satirize Chinese opera.
"All American Emo" and "Sex You Up" spoof popular mainstream genres in fine style.
www.soundparticle.com/ate

John Berger, who has covered the local entertainment scene since 1972, writes reviews of recordings produced by Hawaii artists. See the Star-Bulletin's Today section on Fridays for the latest reviews. Contact John Berger at
jberger@starbulletin.com
.