---
[ FAST FACTS HAWAII ]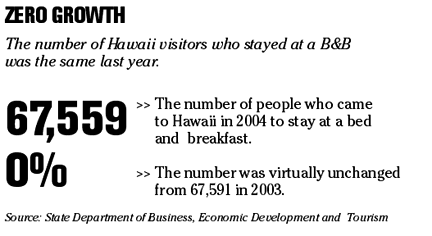 ---
BACK TO TOP


|


Local Merrill Lynch director retiring
Judy Perry, managing director of the Pacific islands for
Merrill Lynch
, will retire March 1 after 28 years with the company.
Perry, the head of one of the investment firm's 140 regions, oversees the institutional and retail offices in Honolulu, as well as branches in Hilo, Kona and Guam. She supervises 74 financial advisers.
"I'm staying in Hawaii and I'm developing my professional art career," said Perry, 63.
Perry, who draws and paints, attended school at the Art Institute of Chicago and is a member of the Hawaii Watercolor Society. She has entered her work in several art shows.
In addition, Perry serves on the board of Enterprise Honolulu, an economic development group; the Honolulu Symphony; Hawaii Theatre; YWCA; and is a member of the Honolulu Rotary.
Hawaii will get more air seats
Scheduled airline seats to Hawaii for February through April are forecast to increase 12.4 percent from the same period in 2004, according to data released yesterday by the state Department of Business, Economic Development and Tourism.
Seats from the U.S. West are expected to grow 8.8 percent, seats from the U.S. East, 20 percent and Japan seats, 22.1 percent.
Hawaiian Air 93.9 percent on time



CORRECTION

Saturday, February 5, 2005

» Hawaiian Airlines was second in the nation last year for the least amount of overboarding, with two of every 100,000 passengers denied boarding. A brief on Page B1 yesterday incorrectly reported the number as two of every 1,000 passengers.

---




The Honolulu Star-Bulletin strives to make its news report fair and accurate. If you have a question or comment about news coverage, call Editor Frank Bridgewater at 529-4791 or email him at

corrections@starbulletin.com

.
Hawaiian Airlines
' flights arrived 93.9 percent on time last year, topping all carriers around the nation.
Second place went to SkyWest Airlines, with flights that were 82.7 percent on time.
Hawaiian had the second-best record for handling luggage for having 2.85 mishandled baggage reports for every 1,000 passengers. Hawaiian also took second place for the least amount of overboarding, with two of every 1,000 passengers denied boarding.
Dawson Group gets $1M contract
The Navy has awarded a $1 million contract to the
Dawson Group Inc.
of Honolulu, which is the prime contractor for the Navy's environmental clean-up efforts in Hawaii, Guam and elsewhere in the Pacific.
The company will remove metal and pesticides from soil at the Morale Welfare and Recreation warehouse area in Kalaeloa and remove sandblast grit at a golf course at Kalaeloa. Fieldwork is expected to start in May.
Telecom conference connected
Hotels, bars and restaurants on Oahu enjoyed a $7.5 million to $10 million cash infusion from the most recent Pacific Telecommunications Conference on Oahu, the organization estimated on Wednesday.
The nonprofit, non-governmental group's 27th annual conference took place Jan. 16-19 at the Hilton Hawaiian Village and featured attendees from 51 countries.
Maui General creates retail unit
Maui General Store Inc.
said it has started a new subsidiary, Retail Development Corp., that will design and manufacture retail clothing and develop store concepts. The Hana-based company said initial clients include children's clothing maker
Baby Buddha Inc.
and
Little Habana
, a clothing manufacturer.
Hawaiian Airlines plan faces another setback
A group proposing an alternative reorganization plan for
Hawaiian Airlines
suffered another setback yesterday when federal Bankruptcy Judge Robert Faris postponed a hearing on their proposal for the third time. The group consisting of
Hawaiian Investment Partners Group LLC
,
Hawaiian Reorganization Committee LLC
and Hawaiian Airlines pilot Robert C. Konop had hoped to go forward with the hearing Tuesday.
But Faris sided with a motion from the attorneys of Hawaiian Airlines trustee Joshua Gotbaum to delay the competing group's hearing until immediately after a Feb. 28 confirmation hearing for a plan proposed by Gotbaum, investor group RC Aviation LLC and the unsecured creditors' committee. If the Gotbaum-backed plan is approved, there would be no reason to hold the other hearing.
Companies are turning to longer-format ads
CINCINNATI » Large advertisers faced with technology that allows TV viewers more control than ever over what they watch are turning to longer ads than the traditional 30-second and 60-second commercials to attract consumers' attention.
Longer-format ads started showing up in the last decade in response to cable channels, satellite TV and digital video recorders that give consumers more viewing options and the ability to skip commercials.
One 2-minute ad for consumer products giant Procter & Gamble Co. features women talking about the benefits they received from P&G's Olay Regenerist skin-care products. Consumers are urged to call a toll-free number to get a product coupon.
Advertisers want new ways to provide consumers with more information about why they need a product, said Anne Chambers, chief executive of the Cincinnati-based Red marketing firm, which developed the ad and specializes in 2-minute TV commercials that ask viewers to respond directly. A Web site or phone number allows advertisers to track results.
Procter & Gamble Co., Ford Motor Co., Anheuser-Busch Inc., Home Depot Inc. and Sears, Roebuck and Co. have all used the longer-format ads.
---
BACK TO TOP
|
[Hawaii Inc.]
NEW JOBS
» The Westin Maui Resort & Spa has hired
Fernando Nolan
as sales manager. He will be responsible for booking group business from the East Coast into the resort. He previously served as the Sheraton Maui Resort restaurant manager.
» The Natural Energy Laboratory of Hawaii Authority has appointed Gregory P. Barbour interim executive director. He has more than 20 years of experience at the state Department of Business, Economic Development and Tourism.
» Bishop Museum has appointed the following employees. Shaun Chillingworth has been appointed marketing and public relations manager. He is responsible for the development and coordination of special events and coordination of public relations efforts with the museum's agency of record. Dymian Racoma has been appointed membership manager. He will be responsible for managing the museum's membership program, developing and supporting programs for member retention and growth, and serving as editor of the quarterly member newsletter. Shirley Tesoro Amundson has been appointed development manager. She will be responsible for coordinating and preparing foundation proposals.
» Goodsill Anderson Quinn & Stifel LLP has named Evelyn J. Black, Joachim P. Cox and Donna H. Kalama partners in its litigation group. Black will be responsible for concentrating her practice in the area of admiralty and maritime litigation. Cox will be responsible for representing clients in commercial and business disputes, including class-action claims, environmental and personal-injury litigation. Kalama will be responsible for concentrating her practice in the area of commercial and real property litigation, creditor's rights, native Hawaiian rights and appellate advocacy.