Zipperlane
zips into town
Extension work begins on
a link to Nimitz in a move
meant to encourage carpooling
The state has begun work to extend the Zipperlane to bridge the 3-mile gap to the Nimitz Highway contraflow lane and expects to complete the project by September, Gov. Linda Lingle said yesterday.
The project will give morning commuters from Central and Leeward Oahu a continuous 15-mile, dedicated high-occupancy-vehicle lane from the H-1/H-2 freeway interchange to where the opposing lanes of Nimitz Highway separate in Iwilei.
"The reason why we're doing this, obviously, is to encourage more carpoolers," said state Transportation Director Rod Haraga.
The state has also begun work to install a Zipperlane onramp just past the Radford Drive overpass in Salt Lake. That will allow morning commuters from Aiea and Pearl City to use the Zipperlane without having to backtrack to the H-1/H-2 interchange.
"For five years we've been waiting patiently to get on the Zipperlane," said Rep. Mark Takai (D, Newtown-Waimalu).
Rep. Mark Moses (R, Royal Kunia-Kalaeloa) said the new onramp will also benefit motorists from Leeward Oahu.
---
Click the picture below for a larger image.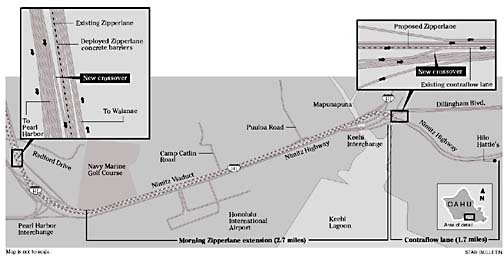 ---
"This will speed up the flow for everybody in the morning, whether they're coming from Waianae or Pearl City or even closer. It's just the whole flow of traffic will be able to move faster," Moses said.
The project will cost $9 million, with the federal government picking up 90 percent of the tab.
The state submitted an application for matching funds more than a year ago and recently received approval from the Federal Highway Administration.
Under the new configuration, the Zipperlane and Nimitz contraflow lane will have the same times and requirements: a minimum of three persons per vehicle from 5:30 to 7 a.m., and two per vehicle from 7 to 8:30 a.m. The Zipperlane uses movable concrete barriers to create a town-bound high-occupancy-vehicle lane for the morning rush hour.
Haraga said the state is also exploring ways to create a Zipperlane for the afternoon commute.
Lingle previously proposed constructing an elevated highway over the contraflow portion of Nimitz Highway and eventually integrating it into a city rail transit system.
Even though Lingle renewed her call for an Oahu mass transit system in this month's State of the State address, Haraga said there are other things the state can do before such a system is built.
"What we wanted to do is ensure that we can take care of some serious problems with little projects that make sense and can be implemented quickly," he said.